---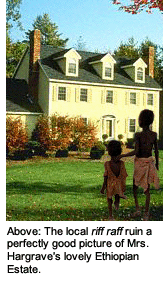 Continuing famine almost caused the cancellation of this year's annual Landover Baptist Bible Safari to Ethiopia. Several of the Platinum Tithers slated to go expressed concern that the paucity of food at their destination would not allow for meal service that lived up to the brochures or be commensurate with the $23,450 charged per traveler by the church for the trip. After seeing a secular news program showing entire village of Ethiopians eating discarded car tires, several Platinum Tithers became so alarmed that they asked for a refund. With the entire trip in peril, Pastor Deacon Fred called upon the entire church, right down to the Tin Wing Tithers, to contribute to a specially organized "Emergency Food For Ethiopia Fund."

Proving that Christian generosity knows no bounds when there are those in need, two million dollars was raised in four days, ensuring that the Landover travelers would be feted in style while visiting such an impoverished land. In a letter to all church members who had signed up for the trip, Pastor Deacon Fred reassured them: "We are not ignoring the food shortage in Ethiopia. Rest easy, everything has been taken into consideration. You won't even know you left Iowa." Vacationers were informed that Christian charities will be flying in vast supplies of the finest shrimp, aged beef, venison, duck, fish and caviar from countries known for producing excellent specimens of each. Participants were made aware that no expense would be spared to assure they enjoy all the comforts of their more blessed homeland.

Those church members who undertake the journey will enjoy luxurious accommodations and find their every whim taken care of. Major Donor, Mrs. Ida Denkins, makes the trip every year. "We have a Colonial Estate in Ethiopia," she remarks. "It's one of our favorite vacation homes. I believe the Mercers have three homes there, if I'm not mistaken." Mrs. Mercer, a VIC (Very Important Christian), is the picture of Baptist faith. She enjoys afternoons sipping tea at the Kook'a'choo sidewalk cafe in downtown Addis Ababa. Often times, she is led to read from gospel tracts to the illiterate, starving, and unfortunate children who gather like panting lap dogs on the other side of her electric fence.

Ethiopia, the land of willing servitude, is fast becoming a choice destination for the Christian Elect. "With their economy in absolute shambles and families willing to sell any possession for food," Betty Bowers notes, "colonial-era furnishings can be had for a song. Just last year, when they weren't even as desperate as they are now, I picked up a lovely Edwardian settee for a packet of Lifesavers." Landover Baptist Deacon, William Farnsworth, is said to have imported nearly 8.7 million dollars worth of 19th Century antiques from the country. "I've visited twice before," Mr. Farnsworth said, "I usually get physically ill, to the point of vomiting, whenever I see a skinny African. My stomach turns just thinking about it. You'd think they'd at least wear a shirt. I recall on my last visit, several of the natives ate my vomit right off the ground. It so upset me, I ended up kicking one of them like a dog. Lord knows I was never called to be a missionary. I serve God by importing Colonial Antiques from third world countries. That's my calling." To avoid contact with the locals, a special guide has been secured for Deacon Farnsworth.

This year's trip is especially exciting. Over 200 Major Donors will make the long trek to the remote country. Some will be staying for 2 weeks in the luxurious Sheraton Hotel in Addis Ababa. Others will be visiting Christian estates, and attending auctions. Christian tour guide, Rev. Henry Watkins, informed the vacationers, "We're writing this off as a missions trip. Be sure you bring plenty of gospel tracts. I intend to cover the streets with them. You folks are going to learn that missionary work can be fun! We even have a contest to see how many tracts you can throw out your limousine window."

Being a country of God-ordained servitude, Ethiopia has a multitude of servants, so many, in fact, that tipping or feeding them is not advised. "They tend to get in fights over table scraps, so it's best not to offer them anything but the Bible tracts," Watkins said. "The Lord's Word is nourishment enough for anyone. We encourage our Christian guests to eat as much as they can," Watkins continued, "since we will fly any leftovers back to the United States, or destroy them by covering them with poison and motor oil. Otherwise, the poor little Ethiopians would get into a huge fight and forget all about the gospel tracts they signed.


---

---
Copyright 1998-2007, Americhrist Ltd. All rights reserved. Terms of Service
The Landover Baptist website is not intended to be viewed by anyone under 18