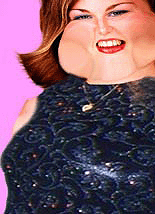 Part 2: The Truth About Exercise
Good day, ladies. It's me again, Heather Hardwick, wife of the incredibly handsome Brother Harry Hardwick. I'm here to bring you Part 2 of my tips for living a healthy life and becoming the most beautiful and fit Christian lady you can be. I can't tell you how thrilled I was to receive the thousands of letters you sent, expressing how much my dietary tips in Part 1 of this series have improved your lives. It brought tears to my eyes to read the accounts of countless women who said that, since they adopted my strict dietary regimen, their married lives have improved dramatically. Husbands who used to leave the house after dinner to congregate with friends now find themselves having no desire to walk to the car, but instead wanting only to relax on the sofa with their wives.
How should a True Christian lady approach exercise? With skepticism and caution. We need only turn to the Holy Bible to see the contempt Jesus has for those who work out regularly.
"For bodily exercise profiteth little: but godliness is profitable unto all things, having promise of the life that now is, and of that which is to come." (1 Timothy 4:8).
This is not to say all physical activity should be avoided. You simply must not become obsessed with it. Today, hundreds of women in this country join gyms so they can exercise purely for the sake of exercise. Some of them exercise in the same rooms as, and even alongside, men! That is disgraceful, but not nearly as appalling as the clothes they wear to do it. Ladies, remember this simple rule of thumb: "Lycra is always underwear – never outerwear." These health club harlots prance around in skintight outfits which can only lead otherwise Godly men astray.
The Bible says that a man who so much as looks at a woman with lust is an adulterer (Matthew 5:28). And adulterers go straight to Hell (Galatians 5:19-21). How could I, in good conscience, enter a health club wearing a secular work-out ensemble, knowing that, in the process, I was condemning dozens of men to eternal damnation? Health clubs are for men, not real ladies.
A Christian lady can get all the exercise she needs in daily routines. I've heard people talk about how amazed they are by the physical achievements of Moses. If you think wandering in the desert for 40 years is impressive, you've obviously never shopped with Sister Taffy. A few Saturdays ago, we had walked down the dress aisle at Neiman's so many times that Taffy playfully suggested I was making dents in the floor.
Activities you should regularly perform in the name of the Lord can provide a sufficient workout, both in terms of cardiovascular conditioning and muscle toning. Below are but five of my top recommendations for a Christian lifestyle that provides sufficient activity to ensure that you remain in good health – physical, mental and spiritual. Praise Jesus!
HEATHER'S GUIDE TO REGULAR PHYSICAL ACTIVITY
Stone throwing -- With the deviance of this day and age, a lady never knows when the desire to impose some good old-fashioned, Old Testament retribution will arise. Bear in mind that stone throwing is both a skill and an art. A novice may have to throw a dozen or more stones before a sinner fully succumbs. An expert knows that one or two well placed rocks on the bridge of the nose will usually do the trick. The Ladies of Landover have classes in beginning, intermediate and advanced stone throwing every Tuesday and Thursday evening at 8 p.m. The classes are BYOS but there are some lovely rocks of all shapes and sizes for sale in the Baptist Gun and Ammo shop two buildings west of the main church gift shop. Works deltoids, trapezius, pectoral and bicep muscles. Also may provide cardiovascular conditioning, depending upon the number of sinners in a group.
Bible toting -- The Bible's not just for church any more. A True Christian lady always has her KJV 1611 in hand. For instance, if you engage in one of the stonings described above, you will certainly want to have the Bible available in case any relatives of the sinner are nearby and wish to know why you just terminated their loved one. For health purposes, I recommend the late Pastor Ebeneezer Smith's Annotated KJV, which is five times the size of an unabridged Bible. This version will not only strengthen your muscles but will enhance your faith. After all, the Bible is loaded with bizarre and seemingly incomprehensible passages that require explanation from a man of God. Cardiovascular conditioning; triceps, rhomboids.
Abortion clinic protesting -- Whether you're carrying the cow's blood or jars of fetuses in formaldehyde, or whether you're just assigned to scream at the teenagers how they'll fry for eternity, you're sure to get a great aerobic workout. Cardio.
Being moved in the Spirit -- Thrusting your body parts around to a Jane Fonda tape like some mentally retarded call girl is never acceptable conduct for a lady. But if done in church, you can always claim you were filled by the Holy Spirit and had no control over your actions. Cardio; stretching.
Witnessing to derelicts -- Before having dinner at our favorite bistro, Harry and I like to walk by the street people and drop "Turn or Burn!" tracts into their hands. Believe me, you'll walk by them briskly, if only to avoid the unbearable odor and cries of hunger which can otherwise spoil your first course. Cardio; quadriceps, hamstring.
I could go on and on, but surely you get the point. There are countless ways you can chastise and condemn sinners that involve sufficient physical activity to keep you in good health. Always remember to check your resting heart rate five minutes after a good rebuking. Good luck, and good health!
For Part I of Heather's Heart and Head Heathly Habits click here

---

---
Copyright 1998-2007, Americhrist Ltd. All rights reserved. Terms of Service
The Landover Baptist website is not intended to be viewed by anyone under 18