---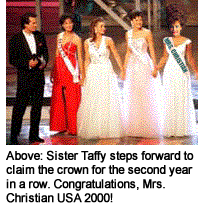 Everyone undoubtedly remembers the amazing come-from-behind victory in last year's Mrs. Christian Pageant by perennial Mrs. Baptist, Sister Taffy Crockett. In contrast to last season's close race, however, earlier this year, Sister Taffy seemed a shoe-in for a second consecutive victory. After all, she had won the Mrs. Baptist Pageant hands down. The votes for Mrs. Baptist are based on tithes, with each church allotted one vote for every $1,000 contributed to the Southern Baptist General Convention. This method of selection ensures that those demonic, liberal "priesthood of the believer" Baptists have the fewest of votes since they generate the least revenue. An undisclosed though substantial percentage of this year's votes were owned by Landover, based on the church's $10 million contribution to the convention. Sister Taffy won by a landslide.

Media analysts predicted Sister Taffy would have no difficulty in this year's race for the ultimate title: Mrs. Christian. After all, her main competition from last year's pageant had little or no chance of prevailing. Mrs. Pentecostal has been incarcerated in the Alabaster Asylum in upstate New York ever since authorities there mistook her speaking in tongues for a grand mal seizure. Mrs. Church of Christ (pronounced "Churcha Christ") had little hope since she would be compelled to wear veils to conceal the facial hair her church does not allow her remove. Mrs. Metropolitan Community Church was disqualified when pageant officials discovered the "Missus" is really a "Mister." And beautiful Mrs. Episcopalian never made it passed the preliminary rounds after she stated during the interview portion of the competition that there ought to be a place in the Christian faith for homosexuals.

Thus, by the time the finals approached, it appeared Sister Taffy would win hands down. Then came the big scare. For the last five years, Mrs. Catholic has been disqualified during the preliminary rounds on the ground that she is not a true Christian but an idol worshiper. However, this year's committee bowed to political pressure. After George W. Bush's negative press coverage for visiting Bob Jones University, a school which recognizes the cult-like nature of the Roman faith, Republicans have tried desperately to paint the party as being tolerant (at least until Bush beats Gore in November). Since "Christian" and "Republican" are synonymous, the committee reluctantly allowed Mrs. Catholic to remain in the competition this year.

Not to take anything away from Sister Taffy, but Mrs. Catholic was stunning. She had a sculpted face, perfect figure and alluring nature. Needless to say, she was dressed and made up like a harlot. Landover moved for disqualification on this ground, however, Mrs. Catholic's sponsors were able to prove, with photographic evidence, that her appearance was common for women at Catholic mass. Mrs. Catholic wowed the judges, earning several perfect scores during the preliminary rounds and appearing poised to upset Mrs. Baptist.

The Ladies of Landover ("LOL") would have none of this. It was bad enough that a Pope-worshiper was even in the pageant. But the LOL were not about to see the Lord's name blasphemed and defaced by this candle-lighter actually winning the pageant. The Ladies were resolved to assist Sister Taffy in defeating the ring-kisser any way they could. Concerted action in the name of the Lord took place during Mrs. Catholic's talent spot. As she had done in the preliminary rounds, Mrs. Catholic twirled five oversized strands of rosary beads on each arm to a tape of folk singers performing "Hail Mary." Just after she had begun the twirls, Mrs. Judy O'Christian conspicuously walked down the center aisle of the orchestra section of the arena and took her place on the front row, disguised as the Virgin Mother. Within seconds, Mrs. Catholic spotted her, then all Hell broke loose. Mrs. Catholic immediately jumped off the stage, hurled herself to her knees and began kissing Judy's feet. As she did so, beads went flying everywhere, some of them striking the judges. The pandemonium eventually subsided, but Mrs. Catholic earned the lowest scores of the competition for her talent.

Her confidence shattered, Mrs. Catholic then flubbed the interview portion of the finals when she confused the miracles of Christ with the revelations of Fatima. By contrast, Sister Taffy was poised, elegant and gracious, as always. When asked what she would do as Mrs. Christian to improve the state of the world, Sister Taffy responded, "I will devote all my energy and efforts to stopping immorality throughout the world. I will work for the punishment and exclusion of homosexuals, abortionists, drunkards, gluttons, liberals and other deviants. I will push to make charity and foreign aid contingent upon the recipients accepting Jesus before they are fed." The standing ovation had barely subsided when it was announced that Sister Taffy was Mrs. Christian 2000. As she was crowned, Sister Taffy was asked what she planned to do next. "Well," she replied, "quite frankly, this tiara doesn't go with anything I own, so I suppose, first, I'll have to buy a new gown."


---

---
Copyright 1998-2007, Americhrist Ltd. All rights reserved. Terms of Service
The Landover Baptist website is not intended to be viewed by anyone under 18