Win a Vacation With President Bush!
A Special Offer From the US Department of Faith
Seven Luxury Slots Available! Enter Now to Win!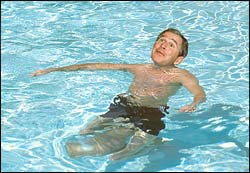 This exclusive offer is reserved for Republican friends of Jesus Christ and His anointed, duly appointed ruler of the civilized world, (pictured right) President George W. Bush:
Did you know that in order to demonstrate His indefatigable readiness and leadership, our infallible Christian President limits Himself to a mere dozen vacations each year, some of them lasting fewer than five weeks?! It's true! And with a such a grueling calendar, it's truly a miracle that our Godly President can maintain His legendary between-naps stamina!
Of course, Presidential outings are luxurious, highly exclusive affairs with very short guest lists. Sometimes, even the President's closest Saudi Arabian friends cannot join him – let alone common sub-royal rabble such ourselves.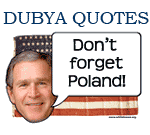 But not anymore – because for the first time ever, the US Department of Faith has been tasked with conducting a nationwide sweepstakes to find seven lucky winners to enjoy the President's company on future taxpayer-financed, month-long escapes from the fetid liberal cesspool that is Washington DC – and it could be YOU! So don't delay – enter TODAY!
Included in Crawford Vacation With President Bush Package:
4 weeks accommodations in Prairie Chapel Ranch guest house (includes indentured Mexican houseboy!)

Daily continental Tex-Mex breakfast barbecue buffet and Bible study

1 day of side-saddle horseback riding with the First Lady

2 days of motocross racing with the coolest Christian man ever! (GW)

1 day bicycle tour of Crawford with formal Presidential SWAT escort

Daily afternoon Mex-Tex lunch barbecue buffet, Bible study and hymn sing

Accompany the President on a 15-minute flyover assessment of the latest super-cool, radical disaster area. Drinks and hors d'oeuvres served in flight!

Evening backgammon and charades

Daily late-night open bar with Toby Keith square dancing and bible study

Autographed American Flag
Included in Maine Vacation With President Bush Package:
2 weeks of 1st class accommodations at the Kennebunkport Estate

Morning "PDB" intelligence briefings, accompanied by "Pat's Age-Defying Protein Pancakes"
1 week of deep sea fishing with President Bush and President Bush Sr.

Daily afternoon Bible study with the President and Rev. Pat Robertson

Accompany the President on a 15-minute flyover assessment of the Latest super-cool, radical disaster area. Drinks and dinner served in flight!

Daily afternoon Lobster feast and Bible study with Reverend Franklin Graham

Evening Gin and/or Rummy with Barbara Bush

BONUS: Segway riding lessons with the President
How Do I Win?
If you are visiting this website, please remember that this offer is open only to Bible believing, Truly Saved™ Christians.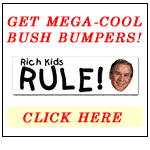 To qualify, please assemble a sweepstakes entry package consisting of the following:
"Proof of 20% Tithing Certificate" from a Bible Believing Church

Photocopy of Republican voter registration card

Notarized letter professing love for Jesus Christ and President Bush

$50,000 money order or cash (US dollars) to:
Win a Vacation With President Bush
Landover Baptist Church
c/o Wexler Offshore Holdings
777 Soulwinner's Lane
Freehold, Iowa
Note: Etiquette requires that all winning contestants present one wrapped gift (to exceed $2K in price), from Tiffany & Co. to the First Lady. Monies secured by contest entrants will be utilized by the US Department of Faith as part of the President's efforts to promote the teaching of Intelligent Design in America 's public schools.

---
---
Copyright 2005, Americhrist Ltd. All rights reserved. Terms of Service
The Landover Baptist website is not intended to be viewed by anyone under 18