What to Do With a Sissy Boy Who Says "No" to Sports!
Helpful Child Rearing Tips in Time for Football Season!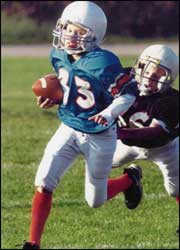 As a Christian parent, to find yourself raising a boy who expresses no interest in sports is not only embarrassing to you and your family and anti-American, but also an insult to the Creator (God) and a public humiliation to members of your Baptist community. If you are in a position where a son you were once proud of, turns out to be a prancing little sissy boy by asking you if he can quit playing sports, we pray that the helpful tips below will assist you in getting your limp-wristed little Nancy-boy back on the road to masculinity.
It is important to remember that little gay boys are all about trickery. They might show an initial interest in sports to appease the pride of a masculine father, while they are really skipping football practice so they can run off to play dolls and trade Judy Garland records with their boyfriends. If you suspect your child is going behind your back to engage in effeminate activities call your pastor immediately after you complete the first step below.
True Christian™ Tips for Godly Christian Daddies of Chicken-footed Gay Boys Who Say "No" to Sports -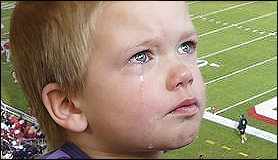 1. The most effective way of getting a Nancy boy back in the game is to gently break one of the bones in his sissified body that he used while playing sports. It is not an easy task. Remember the story of Abraham if your faith is swaying! God commanded Abraham to kill his son. Here, the Lord is only asking you to teach a loving lesson that will involve a painful setting and healing process. It is a tradition that has worked among Landover Baptist Church families here in Freehold, Iowa, for over one-hundred years. The grace and character of a loving father who is willing to sacrifice his son, is a meaningful and worthy Biblical tradition. Acting upon this tradition will show your child how much he means to you, whether or not it makes complete sense to you while you are doing it. Grab your child firmly by whichever body part you intend to anoint and say, "In the name of Jesus Christ, I offer up this bone as a sacrifice to the living testament and bond between myself and my son." A short, quick impact to the forearm or shin with a heavy object like a large KJV 1611Bible or a household iron will usually do the trick. Place his arm or shin over a hard surface and come down hard with one fell swoop. Wait at least three hours before driving him to the hospital to have it set. Let him cry and think about what Jesus just made you do. When all is said and done, the broken bone should heal up by next football season and your boy will have learned his lesson. In addition, you will have instilled a healthy fear in him. You can now confidently say, "Are you afraid of me, you little sissy?! Wait until you meet your Father in Heaven! He'll give you something to be scared about! It's called, Hell! And that's where He'll send you if you don't honor your father and your mother! Now give me some respect, boy! Strip naked and give me a 100 push-ups, you limp-wristed pansy!"

2. If your boy approaches you in a contemplative manner about giving up sports (that is, he hasn't quite made up his mind, but is just coming to you for advice), hold your hand up with the backside toward his face and smack him firmly across his cheeks repeatedly until he cries like a little gay boy. This is called, "bitch slapping." It is a humiliating and extremely effective way of showing your boy that he is embarrassing you and Jesus by acting like a silly little girl!

3. If it is within your family budget, military school is an excellent option. Arrange for him to be transported to a strict military school within a week after he tells you he isn't interested in playing sports. Give him the silent treatment from the minute you hear him say he wants to quit sports up until the moment the Sergeant arrives at your front door to pick him up. The last thing your son should hear you say before he leaves the house is, "If you can't turn this little sissified gay boy into a real man, Sergeant, I don't want him back!"

4. Here is a quick and easy way to de-sissify your child. This advice works under almost any circumstance, and we've given it out on several other occasions. Make a sandwich-board sign that says, "I'm a Sissy Gay Boy Who Is Afraid of Sports." Put this around your child's neck and have him sit in a public place, like a professional football game, the local basketball courts, or even out at the end of your driveway.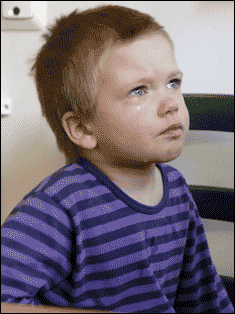 ---

---
Copyright 1998-ROJC, ALANDOVER BAPTIST CHURCH™. All rights reserved. Terms of Service
The Landover Baptist website is not intended to be viewed by anyone unsaved or under 18.