---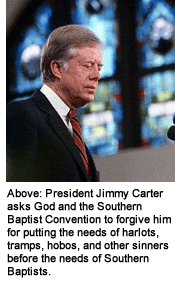 If there is one thing in this world that is worse than a Democrat, it is a Democrat who claims to be a Christian. These people may attend a Baptist church and carry around a KJV Bible, but in the end, they will be exposed as the tree-hugging, homosexual-tickling, sin-tolerant lieberals that they are. Such is the case with the late President of this United States. No, Nancy hasn't just put a pillow over Ronnie! Our perfect and Godly Republican President Ronald Reagan did not die. But Jimmy Carter recently did.

You may be saying to yourself, "But Jimmy Carter isn't dead!" Well, he is to the Southern Baptist Convention. And he is to God.

Recently, Jimmy Carter, who has falsely and continually claimed membership in the glorious and righteous Southern Baptist Convention, was humiliated when ordered by SBC officials to disassociate himself from the SBC and to stop trading on the revered name and good reputation that the SBC enjoys among all Americans of every denomination (except Jews). In fact, just this morning, Landover Baptist Pastor, Deacon Fred, spoke with Percy Ferrysee, chairman of Biblical Conformity. Ferrysee has ordered an immediate investigation of Carter's communist-style housing program, "Habitat for Harlots." $1,800,000 has been budgeted by the SBC to determine if socialist, free housing was provided to worthless tramps and hobos through Habitat for Harlots on the misrepresentation that such a liberal program was endorsed by the SBC. Mr. Ferrysee would neither confirm nor deny that evictions were in the offing, but did say: "If God don't want some folks to have a house, He must have a reason and I don't think it is the business of the righteous to interfere. I will tell you this, though, none of this would be happening if a few brave Baptist families hadn't come forward and told us that Jimmy turned them down in favor of other familes who were not even Christians. That is really the sort of stuff that makes us sick. Jesus told us that we are to do unto the least of these MY BRETHREN he didn't say do unto the least of these who are NOT MY BRETHREN. Our Lord was pretty clear about who comes first, and that is Christians. Jimmy Carter, willfully and with foresight, disobeyed a direct commandment of Jesus Christ."

As if it was it not bad enough that Carter defamed the SBC by his claim to be a member and supporter of the organization, he did not even appreciate the SBC not suing him for defamation of character! Carter has long used the SBC as a soapbox for his Habitats for Harlotry. For years, he has seduced many a decent young person into grabbing a hammer and a bag of nails and joining him in building a home for those who refuse to help themselves. Or worse, convincing a handful of real Christians (Republicans) to put pen to check and financially support this gross miscarriage of justice. Dare we call it charity? Hardly. It is called the devil's trickery at the most evil root. Hurray for the Southern Baptist Convention for finally realizing the sham that Carter has been perpetrating on their organization for years.

Landover Baptist Church believes Carter should be ashamed! And Rosie, you too! When the gates of Hell burst wide open and you are sent spiraling into the lake of fire, you two are going to get all the free housing you need! There won't be asbestos shingles there to save you! And all the insulation in the world won't be thick enough to protect you from the unquenchable fires of Hell!
---

---
Copyright 2000, Americhrist Ltd. All rights reserved. Terms of Service
The Landover Baptist website is not intended to be viewed by anyone under 18