Church to Require Fidelity of Ex-Ministry Graduates
Local Freehold, Iowa News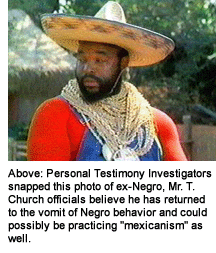 The past month has been a trying time for Christian "ex-" ministries. The problems began when the group, Focus on the Family, was humiliated by the obese transvestite they hired to be the ex-gay movement's leading spokesman when he was spotted in a notorious male hustler bar. The Christian world was shocked that someone could actually return to that disgusting hobby after accepting Jesus and marrying an unattractive and therefore undemanding ex-lesbian. Pastor Deacon Fred put all of Landover's Christian ex- ministries on alert and surveillance was conducted of all graduates to date.

The results are disheartening. Backsliding was reported in 15 of 17 ministries as at least one participant in each was caught reverting back (or coming close) to their old, Satanic ways. Among the many violations discovered by the firm, Private Investigators for God, were the following:

Ex-Negro, Robert Wallace (formerly Rufus Washington) was caught in a soul food convenience store in Chicago. He was spotted by several militant Negro activists who photographed him. Wallace reported that he had simply wandered into the store to purchase some Earl Grey tea. But he had no explanation for why he drove 25 miles from the suburban home Landover helped him purchase (in return for his agreeing not to settle in Freehold), especially when a specialty gourmet store is located around the corner from his house. Wallace insists that, had he been offered chitlins, collard greens or ox tails, he would have refused. However, P.I.G. interviews with those who photographed him revealed that he conversed fearlessly with other patrons, telling them he quit his job because The Man had dissed him too many times and his crib was already paid for. "We really should thank those photographers," noted Ex-Negro Ministry spokesperson, Mrs. Betty Bowers. "Had they not shaken him up, who knows how many hubcaps, glass pipes and guns we would have eventually found in his home."

Ex-Hebrew, millionaire Michael Green (formerly Micah Greenberg), was caught having dinner at a Denny's. P.I.G. investigators filmed him removing the bacon bits from his Cobb salad and refusing to touch his yeast rolls. Green handed the waitress a five-dollar bill, pocketed the 25 cents in change and left without leaving a tip. "I can't believe he would do this to us," noted Ex-Hebrew Ministry chief, Jonathan Smith. "Our group paid a plastic surgeon $15,000 to remove most of his nose and this is the way he repays us!"

Other ministries experienced similar disasters. P.I.G. investigators chased Adam Anderson (former Shamir Raef Hussani) into a bathroom stall at the Ritz-Carlton. While they could obtain no photographic evidence, they located a towel next to the stall which had the distinct odor of sweat, curry and hair gel. And Mrs. Edna Thompson was filmed shoplifting at the local Safeway. While that is certainly not surprising, since she has always been a thief and will likely never overcome that vice, she was again performing the act with her left hand.

"We have been far too lenient on our ex- ministry graduates," observed Pastor Deacon Fred. "We took for granted that they could overcome their afflictions without a relapse. We must now accept that these conditions are sicknesses – diseases – every bit as severe as cancer or demon-possession. We must take all actions necessary to prevent anyone from falling off the wagon. Strong punishments must be inflicted on those who do."

Landover's Ex-Negro Ministry has already taken corrective action. Beginning last Monday, all participants must now sign contracts with restrictive covenants. In particular, all subjects must agree, upon graduation, to refrain from entering any crackhouse, locked house, rap concert, pawn shop, Popeye's, bus depot, lottery dealer, watermelon stand, 40-ounce store or Atlanta. Violators will be disavowed and must resume their employment in the janitorial, sanitation or fast food industry.


---
Copyright 1998-2007, Americhrist Ltd. All rights reserved. Terms of Service
The Landover Baptist website is not intended to be viewed by anyone under 18