Science Doesn't Make Any Sense!
Creation Research Center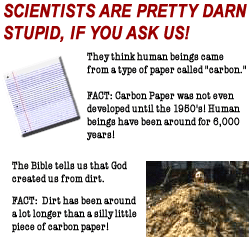 "We don't know how He does it," said Landover Junior High School teacher, Mrs Doris Whitaker, "but Jesus changes the colors of the leaves on the trees during the Fall (a season named after the fall of man from Eden, which had no autumn colors). No science book will tell you that. But it is clear that Jesus is behind the pretty colored leaves that drop off the trees as piles of trash on your lawn! Why else are only the Christmas trees left green? So they can be decorated on His birthday, that's why! Praise!" Mrs. Whitaker expressed a long-held Baptist belief that science cannot explain natural phenomenon. "For years, Congress has been able to force scientists to label their disgusting work as fiction," said Pastor Deacon Fred. "But we don't think that's good enough. It's not called "Science Fiction" for nothing folks. So-called science is just a big pile of secular lies made up solely to take the credit away from God. There is no other way of putting it! They need to stop calling it Biology, Chemistry, Astronomy, and Physics. Do they think that the people of God are going to stand by like idiots and let them rot this country's education system with a mythology spawned by hoofed demons in the fiery caves of Hell?" One does not have to have a degree in Theology to see the Devil's hot red hands in this plot. It was only a matter of time before scientists would start trying to pawn off their silly stories as "truth." Christians know that scientists have never cared, nor will they ever care, one iota about "the Truth." Because truth can't be found in the light of a Bunson Burner. It can only be seen in the Light of God's Word. And that is only found in the Bible. The Bible will tell you that God did not make man from so-called carbon; He made him with dirt.
Today's scientists have taken a turn for the worse. Their mysterious campaign of deception was no doubt designed by several demons of the highest order, armed with Al Gore's calculator and more than likely orchestrated by the hoofed satyr, Lucifer, himself. Science is a "fuzzy math" and a blood-bought Baptist must have a spirit of discernment to see through secular science's toxic cloud of confusion. They mislead the public by creating different names for themselves. They say, "I'm a psychologist," or "I'm a therapist or microbiologist." Poppy-cock! That's what it is. They are nothing more than Satanists with spectacles and pockets full of pencils and rulers. In fact, the word "scientist" is actually Latin for "Satanist." Do they take Christians for fools?
Jesus told us that we need to become like children if we want to get into Heaven. You see, Jesus doesn't want us to get puffed up with so-called education and knowledge, which is why He has anointed George W. Bush. Scientists would have you believe that salvation can be found in the accumulation of knowledge. They say that "knowledge" will set you free. This is hogwash according to our Lord and Savior. Through Jesus, we know that all knowledge outside of the Holy Bible is a lie. A child could tell you that! During this time of Thanksgiving, science has yet to provide an explanation as to why there are still so many turkeys available after they were all killed last year. We will tell you why: Jesus blesses us with those turkeys, end of story. We don't need to read a book to find out where they come from! They come from Jesus! And if those skinny, knock-kneed Africans had the presence of mind to come up with a holiday that centered around eating, instead of collecting shrunken heads, Jesus would give them food so they wouldn't starve, too. Ask and you shall receive!
We can't understand how people fall for science. Do you know where scientists say that "ice" comes from? They say that when water gets cold, it huddles together for warmth. They say this "molecular body heat" stops the water from shaking so it becomes still. Can you believe how stupid secular scientists are? God's Word offers another explanation – the true explanation. "Jesus wants us all to be Christlike - - and what better way than to be able to walk on water? Praise His name!"
How long will Christians be subjected to ridiculous notions about where rain comes from, what causes hurricanes (Would you believe that scientists blame them on a man called Nino living in Peru? It's outrageous! But they really believe it!), why there are floods and droughts, what causes sinkholes, where oil comes from (scientists will tell you oil and coal come from fern trees – try getting either substance from trees!), how food suddenly appears each day in the aisles of grocery stores, how gasoline makes cars "go," how houses get warm during the winter, how light comes out of little glass bulbs (or even how those glass bulbs are made!)."
As Christians, we don't have silly stories or some bizarre mythology to explain the Truth. We know that Jesus is up in heaven, living on a cloud, sitting on a golden throne. If He rustles His silver robes, the Sahara gets a sand storm. If He flicks a drop of perspiration off His furrowed brow, those little folks in Tokyo find themselves under 10 feet of water. Secular scientists go crazy about a few little factories belching smoke, saying it causes acid rain and holes in the erogenous zone. But I have news for you, if the Lord just lets out just one tiny pooty-poot, it is like 4,000 Mount St. Helen's blowing a dark hole straight through the sky.

---

---
Copyright 1998-2007, Americhrist Ltd. All rights reserved. Terms of Service
The Landover Baptist website is not intended to be viewed by anyone under 18