Age of Allowatory Masturbation Lowered to 65
Good News for Christian Seniors!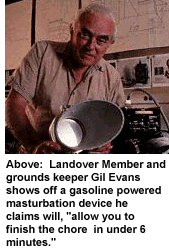 "Therefore now let your hands be strengthened." (II Samuel 2: 7a) In this verse, King David is talking to Saul (aged 65) giving him advice on how to go on about his life after the loss of his beloved bride. This is the key verse in determining the age of allowatory masturbation in male adults. According to scripture, masturbation is a method of self-stimulation directed toward the central pelvic area. It prevents ailments due to lack of blood flow in single or widowed male adults. It was previously thought that the age of allowatory masturbation was placed at 82 with the verse, "..one he lamb of the first year without blemish." (Numbers 6: 14b)
Landover Baptist Pastor, Rev. Wilkins pointed out that, "Numbers 6: 14b is giving advice to 82 year old widowed men who would 'without blemish' bugger the he lamb, and be promised that God would let the sin go unnoticed." He told church members earlier that "It is God's law, set down plain as day in His word," but then added, "The verse has nothing to do with masturbation. The key masturbation verse is II Samuel 2:7a." A church council convened and met with the decision that the allowatory age of masturbation should be lowered to reflect the correct interpretation of scripture.
Landover Baptist Seniors, widowed or single men age 65 and over and those who were born on or before January 1st 1934 have been alerted to the new policy. These members may view without a lustful thought, approved pornographic materials in the privacy of their quarters for the sole purpose of masturbation. An approved incident of masturbation must last no longer than 7 minutes and must not occur more than once a day. Locked bathroom doors will be timed and an alarm will sound if the door remains shut more than 7 minutes. The resulting fine is set to $2,500.
For those widowed or single seniors who have reached the age of allowatory masturbation and are interested in learning more about the new policies, please visit the Seniors clinic, or sign up for the Masturbation Seminars, given on the first Tuesday of each month. You will be taught how to look at a pornographic picture without lust, receive literature on Viagra, a pair of wrist weights, two jars of vaseline, learn the 7 minute cycle, and much more!
In the same vein, cooking and sewing classes for single or widowed Senior ladies will be given.


---

---
Copyright 1998-2007, Americhrist Ltd. All rights reserved. Terms of Service
The Landover Baptist website is not intended to be viewed by anyone under 18