---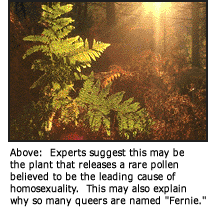 By all accounts, Adrian Coleman had been a model student and respected Landover member throughout his young life. "Adrian was the finest of boys," his mother, Mrs. Coleman, told Brother Harry Hardwick. "I never even saw him sin. He was far too caring and sensitive to ever harm another living creature. He didn't even get into fights at school. Because I taught him that Jesus told us to turn the other cheek, Adrian let the bullies pick on him, sometimes even beat him severely, and he never retaliated. He chose the poetry club over the football team so he would never run the risk of injuring another child. He was every teacher's pet, valedictorian of Landover Bible College and president of the thespian club." Adrian was perhaps best known for running Freehold's top interior design firm with his roommate and dear friend, Christopher Stouffer, with whom Adrian had been best friends since they shared a tent at Boy Scout summer camp when they were in junior high.

All in all, Adrian was the most Christ-like young man to grow up in Freehold, Iowa. That all changed, however, after a fateful move to California. Less than five years ago, this exemplary lad brought disgrace to his family by announcing out of the blue the shocking news that not only that he had suddenly chosen to become a homosexual, but he had gone a mile further along the crooked road to Hell by engaging in a sacrilegious so-called wedding ceremony with Stouffer. "It all started when Adrian came to me and announced that he and Christopher had decided to move to that dreadful San Francisco," sobbed Mrs. Coleman. "We've all heard how wicked that place is and I was touched that the boys were selfless enough to want to go there to bring the Lord's healing word. I knew all about some of the people in that place, so I told Adrian to be careful. I received the phone call that ruined my life within six months of his move. Something in that horrible, Satanic city turned my boy to a life of debauchery, and I demand to know what it is!"

Under contract with Betty Bowers' ministry, Baptists Are Saving Homosexuals, Brother Harry commissioned an in-depth, three-year investigation into the question of why so many promising Landover youths suddenly become homosexuals when they wind up in cities full of sin. Brother Harry's team followed the lives of several Landover members moving out of Iowa, conducted numerous interviews of True Christians living in the devilish towns in which the church members took residence and clicked countless photographs of deviant acts (that are available for educational purposes on the church website for a nominal $19.99 per month maintenance fee). "Time and again, we saw model Christians move to places like Sin Francisco, Fire Island and Key West. These Christian boys didn't have a homosexual bone in their bodies, but found themselves suddenly surrounded by pernicious fairies. Within days, these former Christians were disgustingly first hugging and then kissing their own gender. Within weeks they had become full blown homos, succumbing to the ancient vice of the Greeks!" he reported. Brother Harry sorted through all the data gathered and turned over his findings to Landover's leading physician, Dr. Jonathan Edwards. It took Dr. Edwards less than a week to reach the conclusion he announced at a press conference held last week. "The answer is simple," he explained. "It's got to be something floating somewhere in the air somehow. Like pollen."

Dr. Edwards scientifically postulated that homosexual cities are full of gay pollen-like stuff that is highly contagious and can result in conversion to this depraved lifestyle within days. "This pollen-like stuff is one of the most evil I've seen," he stated. I have taken the liberal of naming it the 'NBS' or 'Nancy Boy Stuff,'" he reported. "There must be a hole somewhere where this NBS is escaping from Hell. Until we are able to locate this hole and close it up, we need to avoid places that are full of it, like large metropolitan areas. It may be in the water or it may be strictly airborne, but in either case, when you get off the plane at LaGuardia, chances are good you'll be a homo by the time your cab gets to the hotel."

---

---
Copyright 1998-2007, Americhrist Ltd. All rights reserved. Terms of Service
The Landover Baptist website is not intended to be viewed by anyone under 18