---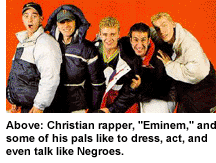 Innocent American Christian children are being recruited into the Negro lifestyle faster than Jesse Jackson can make up a new word. Christian experts say, "Christ-loving families should stand up at attention if they hear their child using one of these 'new' words." Sources say that the words come from areas of the United States that are underdeveloped, both economically and intellectually. "If your child sounds like a baboon," says Pastor Deacon Fred, "and starts to screech and say 'yo-yo-yo' and bob up and down and ask you questions like 'sup?' or 'wut up,' your home has been invaded."

"Modern colored folks have developed a language all their own," one religious report concludes. "To the educated person it sounds like a combination of grunts and screeches," the report continues, "but they seem to be able to understand each other." To make it easier for Christian families to help save their children, Landover Doctor, Jonathan Edwards, offered the following analogy; "Picture if you will, the urban center as one big zoo. Now ask yourself what would happen if millions of primates were able to escape from that zoo and roam freely across America. I don't mean to shock you any further, but now you must picture in your mind that these creatures have gotten hold of recording studios and television programs and through the assistance of Jewish media moguls were able to develop music and drama targeted specifically at Christian young people for the sole purpose of creating another breed of primate. We don't know why, we don't know when, but we do know who is behind it. That person is Lucifer himself."

Landover Pastor Deacon Fred was shocked earlier this week when his own son, Deacon Jr., informed him that (and we quote), "My friends call me 'Big D,' pimp daddy." The pastor was in tears during a Sunday service when he openly admitted to the entire congregation that "rap" or as intellectuals call it, "gibberish," found its way into his own home. Since his admittal, nearly three-thousand other church members have come forward with reports of similar incidents.

A church committee has been formed to investigate the matter further. Right now, Landover authorities have taken steps to assure that all rap music (Christian and Satanic) is eliminated from the campus. Searches are being conducted on a house by house basis and CD's, videos, posters, cable television connections, etc. are all being removed and burned.

---

---
Copyright 1998-2007, Americhrist Ltd. All rights reserved. Terms of Service
The Landover Baptist website is not intended to be viewed by anyone under 18