---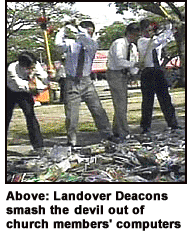 This month, Pastor Deacon Fred preached a sermon warning Church members about the dangers of having the Internet in their homes. Based upon what he said and upon what the Bible teaches concerning separation from the world, we cannot now recommend that a Christian be on the Internet. For that reason, if you are reading this, we can only assume that you are unsaved and going straight to Hell. Even if you do not use the Internet for such filth as pornography or other questionable activities, one thing you must admit is that it can steal your most valuable resource if you are a True Christian-- your time. The time you waste on the Internet could be used for soul-winning, Bible-reading and prayer.

Most, if not all, True Christians believe that the Landover Baptist Church website is the only good and decent thing left on the internet. But because it is impossible to track whether church members are just staying at the Landover Baptist Church site, and not surfing around and unwittingly inviting Satan to sit beside them at the console, we have made it mandatory for all members to have their computers removed from their homes and smashed into pieces. The Landover Baptist Website will still be maintained by qualified Pastors and Baptist educators who will log on in teams of two or more (the Baptist buddy system) and update pages and answer questions in the forums. There is no doubt that Satanists, Catholics, Pedophiles, and others have been saved through our efforts on the internet. Many have been influenced by Pastor Deacon Fred's RealAudio sermons and others have been guided by Brother Hardwick's Bible teaching and Sister Taffy's sin patrol. Others have been led to Christ and enjoyed fellowship on the forum's message boards. But the Web has gotten so worldly and filthy that the risk that you will be influenced by bad web sites now outweighs the potential for good.

To any Christian person who is reading this, please turn off your computer, pack it up and destroy it immediately. God sent a lightning bolt and fried 14 of our church computer's motherboards and hard drives. He might do the same to you if you remain online.

---

---
Copyright 1998-2007, Americhrist Ltd. All rights reserved. Terms of Service
The Landover Baptist website is not intended to be viewed by anyone under 18