Do Children Deserve Anything For Christmas?
Sunday School Essay Contest!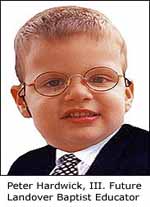 In their effort to remind all Landover children that they are worthless, wretchedly sinful beings worthy of death and lucky to have survived this long based solely on the fickle grace of God, all Sunday school teachers announced a contest in their classes to see which students have made the most concerted effort to follow the Lord's Word this year and can therefore justify even asking for presents. Students were instructed to identify at least one New Testament verse they had made a conscious effort to follow and to explain in a brief essay how they had fulfilled Jesus' commands. Submissions are due no later than early morning services on December 14, 2003, with the top five finishers announced during the fourth passing of the collection plate during Sunday's daybreak services. Families of the winning youngsters will receive gifts ranging from an all-expense-paid, weekend trip to Topeka, Kansas to attend services at Westboro Baptist Church to a life-sized nativity scene for their front lawn, constructed entirely out of Popsicle sticks generously provided to the Freehold Juvenile Detention Center by the Hardwick family.
The following excerpts are from essays already submitted to date:
Jonathan Simmons, 14 (President, Freehold High Needlework and Crochet Society)
"When the bullies beat me up after school, whenever they punch me in the face, I always grab the cheek they punch first, meaning the other one turns in their direction for them to punch (Matthew 5:39). When they steal my coat, I never resist if they try to take other items of clothing (Luke 6:29)."
Elizabeth Helmsley, 13 (Voted "Most Popular Christian Girl," Freehold Junior High)
"I am very selective in whom I allow to be my friends. I socialize only with saved Christians (and only a few of them), and don't even speak in the hallways to any Muslims or Jews (2 John 1:10; 1 Corinthians 10:20; Romans 16:17-18). I wouldn't even have dinner with the family of any Catholic girl (1 Corinthians 5:11-13)."
Gloria Swenson, 8 (Undergoing chemotherapy for blood cancer (determined not demon-related) at Landover Memorial Hospital)
"Whenever I attend church, pray or go out in public, I always keep my head covered at all times, like all females are supposed to do (1 Corinthians 11:5-6)."
Steve Austin, 15 (Wrestling team member, Freehold High, and one of the boys who tries to teach Jonathan Simmons about manliness)
"I definitely love Jesus more than anyone in my family (Matthew 10:37). In fact, I can't stand my family. I despise both my parents, and let them know it all the time, but I do love the Lord (Luke 14:26)."
Peter Hardwick, 10 (Heaviest boy, Landover Elementary)
"Like the apostles, and as Jesus instructed, I eat lots and lots of red meat. I haven't found an animal yet I didn't consider a great meal (1 Timothy 4:1-3; Acts 10:9-13). I stay away from athletics, constantly praying instead, because I know Jesus sees little benefit to physical activity (1 Timothy 4:8)."
Sheryl Cooper, 16 (Member of the Ladies' Golf, Tennis and Basketball Teams, Freehold High)
"Unlike less Godly girls, I don't wear fancy dresses or skirts to school. I wear simple, modest apparel, combing my hair straight and never wearing some fancy hairdo. I don't wear jewelry or any other costly things (1 Timothy 2:9)."
George Lott, 12 (Held back in fourth grade three times, Freehold Elementary)
"I study the Bible rather than those secular subjects they teach at school, completely ignoring science class (1 Timothy 6:20; 2 Corinthians 10:5). I know better than to study anything other than God's Word."
Jennifer Smith, 15 (Landover High)
"During the months when my mother was in constant pain, dying from a brain tumor, I prayed and prayed that God would cure her or at least take her quickly. When my prayers weren't answered, I realized that was because I was a sinner who asked for too much (James 4:3). I spent the next six months begging for forgiveness for all the things I had done to upset Him."
Theresa Bombay, 17 (Landover High)
"Early in the year, I volunteered to work at the downtown homeless shelter, serving food to those without work. When I realized that God did not want the unemployed to eat (2 Thessalonians 3:10), I quit my job and now spend my weekends protesting at the local Planned Parenthood center, screaming at the patients how they're nothing more than murderers."
Mary Maladen, 13 (Landover High)
"I used to like to talk a lot, so it's been really difficult, but I now make certain never to open my mouth in church (1 Corinthians 14:34-35). Even in Sunday school, I let the boys answer all the questions. When my math teacher asked me to tutor some of the football players who were having trouble in our class, I declined, telling him that, as a girl, I should never try to teach. Instead, I should keep my mouth shut and just have babies (once I'm married, of course)(1 Timothy 2:11-15)."

---

---
Copyright 1998-2007, Americhrist Ltd. All rights reserved. Terms of Service
The Landover Baptist website is not intended to be viewed by anyone under 18