Speak in Tongues in 5-Days or Your Money Back!
Special Offer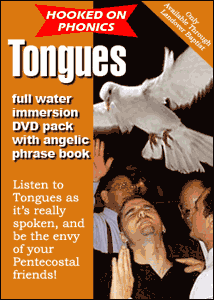 Our Pastors are very excited about a new Hooked on Phonics DVD being made available exclusively through the Landover Baptist Church. "For the last few years, we've been assisting the folks at Hooked on Phonics in coming up with a quality product," says Landover Pastor, Deacon Fred. "I'm confident that we've created something that will have you babbling in so many tongues you'll damn Pentecostals to Hell with their corrosive envy."
The DVD allows beginners to start out the easy, backwoods Pentecostal way -- by copying what the person in the next pew is yapping. Within a day, you will learn to make up things that even you can't understand while in a hot-footed hillbilly trance. You'll get a hundred page handy translation guide along with the DVD:

TONGUES: shun-doo-lah!

ENGLISH: "Look at me!

TONGUES: shun-doo-lah, mah-shundah!

ENGLISH: "Look at me! Look'it what I can do!"
DVD extras include: Basic Snake-Handling, Pew-Jumping Safety, Beginner's Chandelier Swinging, and the popular short instructional film, Slayed in the Spirit: Failsafe Protocals - When You're in the Wrong Church and the Congregation Goes for the Gun Rack, It's Time to Play Dead.
Not included in this offer: Singing in Tongues and Healing Below the Belt.
Landover Baptist Ministries puts its reputation on the line by promising to retain only 85% of the $2,304 cost of this deluxe one DVD set if you are not completely satisfied -- all you have to do is tell us you weren't 100% happy and pay the $350 shipping costs and allow the Landover Baptist Sin Patrol to scan your hard drive to ensure you didn't make a copy of this proprietary software -- or have photographs or movies that Pastor Deacon Fred has deemed after careful study to be offensive or sickening."

---

---
Copyright 1998-2007, Americhrist Ltd. All rights reserved. Terms of Service
The Landover Baptist website is not intended to be viewed by anyone under 18