---
Competition Judge and Commentator: Dora-Jean Hazlett, Fundamentalist Movie Critic - and now Art Critic too!
First place in the pre-K division went to Little Ivey Anne Sumac's picture titled:" After the Rapture: Them That's Left Behind" (I Thessalonians 4:17) What a great job of using mere Crayolas to capture such realistic tears of abandonment and anguish! This would also work nicely with Rev. 1:7, Ivey.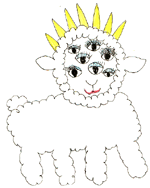 First place in the 9-11 age group: Lamb of God (Rev. 5: 6) by Serita Dickerman - Complete with 7 horns and 7 eyes! A work of mathematical and artistic genius. Shari Lewis would be proud! However, it might be good idea to lighten up on the eye shadow, honey.



First place in the 12-14 age group: "The Lion Beast" (Rev. 13:11-12) by Heather Haverstick. We live in the faith that the next big, apocalyptic-size hurricane will hit Orlando. Thanks for the reminder, Heather.

The rules for the competition were simple: select your favorite passage from the Book of Revelation and illustrate it! 2,000 Landover youths took out their crayons and started drawing. Some of their drawings turned out nearly as good as those wood pictures by that German Bible illustrator, Albert Durwood. Praise! Little tiny Baptist brains at work! The only rule for the competition was that there would be no "Abstract" pictures allowed. If your little sister can't tell what it's a picture of in under a second then it is more than likely demonic in origin.
We do not have the space to recognize all of the winners - We can only mention a few. But a hearty Christian congratulations to all who participated!
Here in the metro Freehold area, touring exhibitions of these artworks will be on display at the many hospitable Denny's® Restaurants rimming the Landover campus. There are also plans to reproduce some of the award winning drawings on place mats and/or note cards. Praise!
---
All Rights Reserved. Copyright 1999 Americhrist Ltd.