---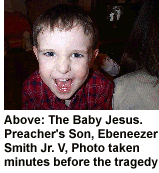 Church members were horrified this week when they arrived for 10:00pm services and saw 16 riot police at the front of the church guarding Landover's world-famous $234,000 live Christmas Nativity. Pastor Smith announced to the frightened congregation: "Evil is afoot! During the 8:00pm service this evening, Satan stole our precious baby Jesus right from under Mary's nose!"

Members were immediately reminded of last year's tragedy when imported bovine from England were used for the Holy Nativity Cows. Right in the middle of the third chorus of "What Child is This," one of the foreign cows went mad as a hatter and trampled seven onlookers, killing three. When the crazy cow made a move for the Holy Infant, outraged members of the congregation throughout the church reached for their guns and shot the miscreant heifer, riddling its black and white hide with no less than 45 well placed bullets. Some skilled Christian marksmen managed to get the mad cow right between the eyes even though they were shooting from as far away as the $45 seats and the choir mezzanine. The gunfire continued for almost two minutes and didn't stop until the savior-attacking cow finally dropped in pieces on to the gold-leaf straw. Once the ammo-smoke had cleared, the hellish scene was only amplified by the sight of Mary (played for the 24th -- but understandably last -- year by the lovely Mrs. Judy O'Christian) rocking back and forth in her period-piece recliner with a wig full of cow brains and a quivering chin dripping cow blood onto the screaming baby Jesus (played by little Ebeneezer Smith IV). It took some church goers months of Christian therapy and counseling to get past that horrific incident. And having a genetically-berserk cow, of course, meant that store-bought ground beef had to be used for the very first time in our church's history at the traditional New Year's Eve dinner that follows the breaking down of the Nativity.

This year, the congregation was barely 15 minutes into the 10:00pm Christmas service when pandemonium struck. When the service started, Little Ebby Smith V (the Christ Child) was wrapped in swaddling clothes, and laying in the gold-inlaid mahogany manger at the front of the church. "He was in the exact position the Bible implies that the infant Jesus lay," Pastor Smith told police detectives. Mrs. Hardwick (Mary, Mother of God this year), thinking she had seen Jesus in the first pew, turned her head for just an instant and when she looked back into the 18 karat gold crib what she saw there made her scream at the top of her lungs. "No!" bellowed Mrs. Hardwick, looking down at the baby Jesus. "Witchcraft! Our beautiful little baby Jesus has turned into a little pickaninny!" Her voice rang throughout the 3,500 seat church like the horn of Gabriel. Mrs. Hardwick then became overcome with grief at the sight and began speaking in unintelligible tongues interlaced with heartfelt racial epithets.

Indeed, the handsome little baby Ebby Smith had been replaced with the dark-as-an-eight-ball Ice "Puffy" Playa Jefferson, a 6 month old Negro child belonging to maintenance workers, Moesha Lois and Jeremiah Jefferson Sr. When Dr. Raymond Walker age 84 and his wife Ethel, age 62 (both major donors) moved toward the front of the crowd and saw the colored baby Jesus, they were so shocked that both of their hearts stopped instantly. Dr. Jonathan Edwards examined their lifeless bodies at Landover Baptist Memorial Hospital and concluded that the Walkers had died of massive cardiac arrest brought on by a traumatic experience. "They were frightened to death by such an outrageous and disgusting sight. I dare say I'm not the least surprised. Probably would have done the same myself." Dr. Edwards noted.

"We are saddened by the loss of two Christian greats," Pastor Smith announced. "Raymond and Ethel were well loved by this church. They funded the Raymond Walker Christian Library in Leviticus Acres. Their Godly contributions to this church helped build the Landover Baptist Airport Platinum Tithers' Duty-Free Lounge, The Ethel Walker Chair for Caucasian Studies at Landover Baptist University, and the Christian Country Kind Kiddy Kitchen at Landover Christian Mall."

The real baby Jesus, Ebby Smith V, turned up in a small haystack, contentedly suckling on the Holy Goat. "Whoever put him there, and replaced him with a false Christ, we don't know, but we are fixing to find out. The Bible tells us about false messiahs and it also tells us what happens to them!" Rev. Smith told the 10:00 service. "We do know that someone's idea of a 'joke' resulted in two deaths, baby Jesus nearly being trampled by an ass, and a sacred and beloved church keepsake 'our 103 year old manger' is now going to have to be burned for being desecrated by a colored Christ. I hope the Jeffersons are happy for spoiling everyone's Christmas."

Moesha Lois and Jeremiah Jefferson Sr. have been placed under Church arrest in the sanctuary basement, and will not be able to see their 6 month old child again until they confess their crime and renounce Ice "Puffy" Playa as a false savior.


---

---
Copyright 1998-2007, Americhrist Ltd. All rights reserved. Terms of Service
The Landover Baptist website is not intended to be viewed by anyone under 18