Godly Tips on How to Punish and Beat Your Christian Child
"Blows and wounds cleanse away evil, and beatings purge the inmost being." Proverbs 20:30
From the Landover Baptist Department of Creation Science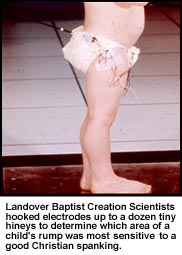 1. To begin with, a Christian parent must understand that a child will never learn a lesson unless they are beaten on their naked bottoms until the imprint of the rugged cross is plainly visible on both cheeks. (Proverbs 23:13-14) A clothed bottom is less humiliating and less painful for the wicked child. In fact, the child may feel no pain at all if they are cunning enough to sin while wearing heavy jeans or khaki pants. A youngster who can sit comfortably after a Godly beating will think they have outsmarted you and tend to repeat their misdeed and feel a license to move on to more hardcore sins, like rape and blasphemy. If a child is able to sit down within three days without ointment or a bag of frozen vegetables after their punishment, you have failed as a Christian parent. A good spanking should be traumatic and something the child will remember well into adulthood.
2. Use a heavy object, a ruler is too light, a belt-buckle may cause bleeding and suspicion from liberal democrat schoolteachers if you are careless enough to allow your child to attend a public school. We suggest a heavy King James 1611 authentic cowhide leather bound Bible.
3. Find a comfortable place to sit and ask your child to come over and have a seat on your lap. Act as if there is nothing amiss. We suggest that you smile or wink at your child. If it is your daughter, say "Come on over here and sit on daddy's lap, sweet heart. I want to talk to my little angel for a minute." If it is your son, we suggest you say, "Hey there, sonny - how's Dad's little quarterback? Come on over here and sit on my lap for a minute and let's talk about Jesus."
4. As soon as you have the child on your lap, clench his hands so that he cannot move. Immediately flip the child over so that his stomach is across your knees. If the child struggles, give him a good whack across the back of his head and tell him to shut up. Whisper in his ear, "You're going to get a whole lot worse from Jesus, you rebellious, hateful, little sissy!"
5. This is the point where the child may act like a little demon and start screaming. Be prepared for this wicked outburst. Have an athletic sock in your back pocket and cram it into the child's mouth. Stuff it back until you get to the stripes at the top of the socks. Don't worry: if the child is smart enough to remember to breath through their nose, they won't suffocate.
6. Ready your Bible, and lift it high above your head with one hand. Keep the child secure with your free hand. Landover Baptist Creation Scientists agree that the most effective way of securing the child for beating is to clench the back of his neck like a turkey. If they are still struggling, we suggest you raise your voice and say something like, "I'll give you something to squirm over, you little devil!"
7. Pull down their pants and underwear to reveal their pink little hiney. May sure both cheeks are fully exposed.
8. To ensure that the child is aware of their misdeed, and they never forget it, it is often best to smack the child across the bottom with the Bible as you speak out their misdeed. Each word would be one healthy whack across their naked hind quarters. For example: "YOU" [WHACK!] "DIDN'T" [WHACK!] "EAT" [WHACK] "YOUR" [WHACK] "BRUSSEL" [WHACK] "SPROUTS" [WHACK!] "YOU" [WHACK!] "LITTLE" [WHACK!] "DEMON!" [WACK!] and finishing off with a lighter whack, "did" [whack!] "you?" [whack!]
9. Rebuke the child in the sweet name of Jesus, toss them aside like a used Kleenex and let them roll to the floor to contemplate their sinful nature.
10. After about an hour, when the child has calmed down, have him sit on your lap again and read him some scripture verses about Hell (We recommend, Matthew 13:41-42) from the same Bible you used to beat him with. Let the child know that the punishment he received today is nothing compared to the eternal punishment of Hell where Jesus burns and cooks all the bad little boys and girls who don't do what their daddy tells them.
---

---
Copyright 2003-2006, Americhrist Ltd. All rights reserved. Terms of Service
The Landover Baptist website is not intended to be viewed by anyone under 18