Landover Baptist Missionaries Remove Over 10,000 Jewish Prayers From Wailing Wall
Own a Piece of Holy Land History!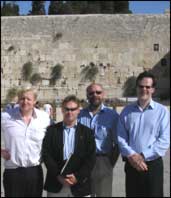 Freehold, Iowa - We are overjoyed to announce that Landover Baptist missionaries have safely returned from the Holy Land with an incredible stash of over 10,000 rolled up little paper prayers they found sticking out of the Wailing Wall in Jerusalem. The prayer scrolls were removed in the dead of night, without incident. Some of these little scrolls are over 200 years old! Imagine owning a piece of Holy Land history! The Bible teaches us that most of these incredibly personal items would have been blown to smithereens and destroyed in the coming Apocalypse. If not for our resourceful team of missionaries (who also happened to bring back four large stones from the Temple Mount which are now on display in the church lobby), these prayer papers would have been lost forever. As Christians, we understand that since most of the prayers were placed in the wall by Jews, they were lost anyway - since the Bible teaches us that Jew prayers fall on deaf ears.
Special Offer: Own An Authentic Prayer Taken From the Wailing Wall!

For a limited time, we are offering a framed sets of each prayer scroll we have in our possession! For a small love offering of $4,750.00 or more, you will be the envy of even your wealthiest Christian American™ friends. Imagine one of these authentic pieces mounted over the fireplace mantle in your Godly living room! And the best part is, your donation to purchase the intimate and personal prayer of a lost Jew will go toward securing the purchase of our Pastor's new private gulf stream ministry jet. In other words, the smuggled prayers of lost Jews will help to further this ministry and win more souls to Jesus Christ! Isn't it incredible how God works? How could anyone say "no" to this amazing offer.


Each prayer mounting will come with the title, "The Prayer of a Lost Jew." It will include the original scroll, and a complete American translation of the unheard prayer. The translation will be signed by an authorized Creation Scientist to validate its authenticity.


Please act now to secure this offer! We have already accepted hundreds of donations and don't expect to have any of these rare personal items left until it is safe for our missionaries to return to Jerusalem and gather more! And if God's will goes according to plan, most of Jerusalem might not be left standing before the year is over. You could very well be the only one in your Christian community to own one of these authentic keepsakes.

Send your love offering to Jesus at:

Wailing Wall Prayer Scrolls
Creation Science Restoration Center
Attn: Finance/Love Offering Department
864 Deacon's Lane - Suite 240
Freehold, Iowa 45962

---

---
Copyright 1998-2007, Americhrist Ltd. All rights reserved. Terms of Service
The Landover Baptist website is not intended to be viewed by anyone under 18