United States Congress Dedicates Capitol Building to Jesus Christ

Reclaiming Our National Christian Heritage For Jesus Christ, One Federal Landmark at a Time!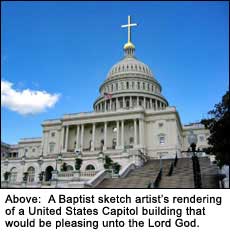 Freehold, Iowa - As part of a national Christian effort to continue the U.S. Congressional Jumpstart for Jesus program led by the Chaplain of the United States Senate, the Congressional Prayer Breakfast and dozens of Evangelical congressmen, a symbolic cross of Jesus Christ will be placed above the U.S. Capitol Building for a period of three months (and God willing, indefinitely) beginning on the Lord's birthday, December 25, 2007.

Last Tuesday, Landover Baptist's Pastor Deacon Fred was invited to meet with congressmen and speak on the Senate floor. There he announced a financial victory in the name of Jesus Christ. "I am proud to be here on the Senate floor giving glory to God and announcing a victory for True Christians™," he said. "Since mid-July, we've raised over $83 million to tear down the pagan idol on top of this building and replace it with the cross of America's Lord and Savior, Jesus Christ. Friends, there is a long tradition of honoring Christ in both the House and the Senate. I'm not surprised you folks are so interested in our proposal to get that cross up there as soon as possible. I've prayed with most of you, and counseled you in the prayer closets made for that very purpose in this splendid edifice and I believe the time has come for Americans to show their appreciation for our government's commitment to Christ." Pastor then preached a short sermon, led Congress in communion, and held an altar call where teary eyed Jewish Senator, Bernie Sanders, came forward to turn his life over to Christ and make a new commitment to the Republican Party.

The Chaplain of the U.S. Senate spoke later in the day regarding the timetable and ceremony plans to get the cross hoisted atop the Capitol building by December 25th of this year. "I have to tell you, the wonderful thing about this whole project is that it is classified as a ministry," he said. "So you can reach down deep into your pockets and know that all the money you send to the Pastors in charge at Landover Baptist is tax deductible."

Construction is already underway to remove the bronze Statue of Freedom which currently sits atop the U.S. Capitol today . In a recent poll taken by Fox News, it was found that 97% of American Christians believe that the current statue is little more than a half naked false idol and should be removed as soon as humanly possible before America incurs more of God's wrath during the upcoming hurricane season. "Most people in our poll checked off the little box that said, Scantily Clad Pagan Goddess, when we asked them what they thought about the Statue of Freedom," says one Fox News executive.

Opponents of the project argue that placing a cross on a federal building violates the separation of church and state. But Landover Baptist Pastor, Deacon Fred assures them the project doesn't have anything to do with church and state. "This project has to do with Jesus Christ," he says. "And Jesus is not a church, nor is He a religion, or a silly old state for that matter! He is the Son of the Living God! And right now, He is in a bad state! The tell-tale sign of his most recent mood swing started with September 11. We need to start giving Him back the glory our founding fathers gave Him! If we don't, you mark my words, Jesus' Daddy is not going to stop sending earthquakes, floods, hurricanes, tornadoes, terrorists, illegal aliens, and bad credit to this once great Jesus loving nation! History teaches us that the Lord has a very short temper, and we believe that temper will be quelled by our commitment to place a cross on top of the U.S. Capitol Building by December 25th of this year. Des Moines is next."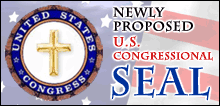 If you'd like to get involved, call the Landover Baptist church hotline or send your love gift of $10,000.00 or more to:

Operation: U.S. Golden Cross
Landover Baptist Church
77 Soulwinner's Lane
Tower 3, Suite 822B
Freehold, Iowa





---

---
Copyright 1998-2007, Americhrist Ltd. All rights reserved. Terms of Service
The Landover Baptist website is not intended to be viewed by anyone under 18