Local Catholic Priests to Hold Traditional Boy Diddling Contest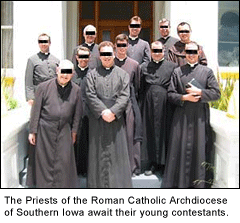 Freehold, Iowa - The Church of Mary, Queen of Heaven will be holding its 75th Annual Boy Diddling Contest for all registered priests in the Roman Catholic Archdiocese of Southern Iowa in mid-April.
"Nothing surprises me about the pomposity of the Vatican anymore," says Landover Baptist Pastor, Deacon Fred. "You'd think they'd hold back a little bit with all the press they've been getting lately, but boy diddling is so much a part of the Catholic community, it is ingrained into their collective religious consciousness." Deacon Fred explains that boy diddling is a Catholic tradition that goes back almost 2,000 years. "The Catholics have been molesting children for hundreds and hundreds of years! Long before us Baptist preachers even knew the difference between boys and girls In fact, contests like this are to be expected. Priests believe it is their right to fondle their flock. It is just shocking that Catholics are still being so public about it. I'm all for freedom when it comes to religious practices, but this sort of thing is illegal. There are lots of things that God tells us to do in the Bible, like stoning disobedient children and eating our own poop, but we refrain because those sort of things get us into trouble with the police. Apparently, the Catholics just don't give a demon's hocked up loogie about the law anymore," he says. "I want the members of the Landover Baptist Church to be clear on one thing: don't you ever let any hell bound Catholic tell you that us Baptist preachers molest small children. If any of us do, we've got a long way to go to catch up with the Catholics, and we most certainly don't hold contests!"
Creation Scientists at the Landover Baptist Intelligent Design Research Laboratory believe that boy diddling could have been the 96th complaint posted on the Wittenberg Door in 1517, (the 96th reason that Catholicism is a false religion). "It would have been too shocking during those days for Martin Luther to post his 96th complaint," Dr. Entwistle explains, "and Martin Luther may well have won the Boy Diddling Contest that month, and wanted to keep the matter private - we don't know for certain, we can only speculate on reliable Christian hearsay." What True Christians™ do know is that Luther's 95 theses were mostly about 'indulgences,' and that boy diddling was reserved as a luxury indulgence for a select group of Cardinals and Priests during those days.
As part of an ongoing investigation of the Catholic Church, the Landover Board of Deacons will be covertly sending several well-endowed young boys from the Landover Baptist Junior High Youth Group to the Church of Mary in mid-April to investigate the contest. "Our boys are fully trained and well equipped to avert the wandering hands of Catholic priests," says Pastor Deacon Fred. "We'd just like them to find out as much as they can about the contest so we can get the information to Pastor John Hagee. Pastor Hagee needs to do his best to get our next President, Sarah Palin on board with the truth about the Catholic Church. Once that happens, we hope to see President Palin publically renounce Catholicism, close all Catholic churches and get the right folks arrested and put behind bars or sent back to that pedo-factory in Rome, called The Vatican.
"I don't see how anyone with a lick of Bible sense can think that Catholics are followers of Jesus Christ," Pastor Deacon Fred concludes. "Jesus told us that the Kingdom of God is within us. The Kingdom of God is not in some fancy Cathedral in Rome, nor is it under a priest's fancy red dress!"

---

---
Text Copyright 2008, Americhrist Ltd. All rights reserved. Terms of Service
The Landover Baptist Church website is not intended to be viewed by anyone under 18