Letters To Landover: Pastor's Mailbag



JULY 2008
A Small Sample of e-mails unedited and in original form


Deacon Fred, I call you by your first name because I just saw you you-tube show and don't think you deserve to be called a Pastor or Rev. First of all, a Christian would not talk to another Christian in that tone for any reasons. If you call yourself a Christian then there is something wrong with you. Next, I'm a Catholic and have a very (if you will) devout Baptist Grandfather and loves me for me and has never put down any of my Catholic family members or even my Priest. If you were to give your little Satanic speech to someone in my church, you would more than likely start a huge fight. "You ring kissing, Pope loving..." My grandfather and his Pastor would never think of talking like that. And you call yourself a Christian. Man, read your bible. And then tell not only the Catholic Church but the Protestant Churches as well that you're sorry for allowing Satin to talk through you. You claim to be a Man of God, stop and think, Would GOD ever talk to anyone the way you just did. Oh! by the way, you're not one of those stinking persons (who call themselves Baptist) and march with signs and thank God for dead soldiers, are you? Whether you like it or not, I am a born again Catholic SAVED FOREVER. Also, I have some people from my Catholic church who are following me and are becoming saved. You're about 35 - 40 yrs old and I believe you were just punked by a 18 yr. old Catholic. HAVE A NICE DAY! YOU ARE SICK!

Bobby Morgan
---
I went to google in order to find legitimate answers to the question regarding pets going to heaven and yours was the fourth site listed. I unfortunately had the displeasure of clicking the link to this ministry. While I am sure that this e-mail will do nothing to change the Ungodly way you think. I had to take a moment to respond to the most ridiculus and prejudice bunch of hog wash I have ever had to read. I shudder to think that their are people such ascyopur self actually spreading the word or false word of God. To think that there are those who have placed their spiritual well being in your hands is frightening. While I do concur that animals do not go to heaven, the statement that they will be sent to Hell is beyond comprehension. To slander the chinese people as you have are statements that could only come from an idiot blinded by bigotry. You sir are the perfect example of the type of minister so aptly spoken of and of whom we have been warned in 1st 2nd and 3rd John and the book of Jude. I pray that God lay upon your heart the truths, I also pray that those who have given their ear to you, find a way to see you for what and who you are Remember my friend the words of warning spoken in James 3:1. I also call to your remembrance Matthew 18:6 I do hope that you find a way to see the sin ithin you and repent for I have no doubt you will be according to your beliefs sitting amongst the coals speaking chinese and eating dog suey and cat foo yung. Good day sir. My prayers and the prayers of my family will be upon you.
In Christ,
Jarry & Donna Kay
---
FUCK YOU AND YOUR FUCKING CHURCH OF HATE AND IGNORANT!!!! YOU AND YOUR CHURCH ARE THE REASON I LEFT THE CHURCH AND WENT TO WICCA YES I AM A WICCA AND PROUD OF IT I LOVE MY TWO VERY SWEET CATS (AMUN AND ISIS) AND I DO NOT KILL THEM AND BOIL THEM WITH GARLIC AND DRINK IT!!! YOU SICK MOTHER FUCK, JESUS FUCK!!! I DO NOT HURT ANYONE YOU SICK CHILD ABUSING BASTED!!!!! I HAVE HEAR YOUR SICK TWISTED SERMONS ON YOUR WEB SITE AND THINK YOU ARE THE MOST FUCKING RETARDED ASSHOLE LICKING BASTED I HAVE EVER HEARD. THE SICK SHIT THAT SPILLS OUT OF YOUR SHIT SMELLING PUSSY LIPS IS APPALLING!! OH, BY THE WAY, I AM THIN AND TAN, NO PIERCINGS OR TATTOOS!! YOU SICK SICK MAN!!! YOU MIGHT AS WELL FUCK YOUR SELF AND CUM ALL OVER THAT FAKE PROPHET YOU CALL JESUS!!!

YOURS TRULY,

PROUD WICCA
---
i have been reading your website. and i am so concernd. you are so confused and lead by satan. in the bible it says that lucifer comes in sheps clothings. meaning, he comes so inocent and loving. and that in the end days, the blind (you and your church) will lead the blind (the world). you are so misunderstood in so many areas that i have no idea where to begin. so, ill just wait until you write me back. (if you are not affraid of being put into your place that is). i seriously hope that God shows the REAL him in your lives. you are truley lost, and the sad part is, you do not even know it. and you're leading others down your sick and twisted ways. you are all in my prayers.
in Christ,
Cassie Clark
---
Pastors,
sometimes at night before i fall asleep i lay in my bed and look at my ceiling and sometimes i see a black shadow that spirals and the shadow is in my eye what could that be.can you tell me if its something i need to worry about?
David H
---
hello today i was searching the internet about the race of jesus and i found your church board response. i have to say that as so called children of god you really are a racist bunch of people. jesus was a black man so were the israelites. and when he returns you'll see no wonder why many people leave the church.

marla lewis
---
Where do you get of by saying that the unsaved are unwelcome? I have always been under the impression that one SAVES the unsaved, instead of shunning them. you are the WORSE kind of hypocrite, and certainly NOT the milk of human kindness. How DARE you profess to Christianity. You should be ashamed of yourselves, and I can certainly imagine that most of your parishoners are some of the very "scum" you say that you have made unwelcome! you select people on the basis of their piety instead of their need for your "god". People like you make Me sick!

i also found your churches response to the question of wether or not jesus was a quote on quote "colored man"! i have to say that was really wrong for what you said. i am a jew and i believe that jesus was a black man. the bible and history clearly shows it

Myrrydyn
---
Either your writings and teachings are very convincing or your audience is dumber and more naive than I ever thought was possible! I shudder to think how they'd react if you were to discover (thru a vision from Betty no doubt) that their Lord had put you folks in charge of all the other religions and you were about to tell those other religions a few things about what they can say and believe.
What an apocalypse!!
Ron B
---
Are you seriously a church? How could you call yourselves that? It sounds more like you are trying to be God with all of the judging you are doing. Aren't we supposed to shepard the lost and unsaved? Love the unloved. No one is sinless except Jesus Christ! Not one of you are sinless. He who is with out sin cast the first stone! God loves us so much that he sent his son to die for you and me and we are called to love our neighbors as He has loved us. I will be praying for you all. God Bless each and everyone of your souls.
In His Glorious Name,
Erica Rollins
---
This website which I believe to be a joke website is highly inaccurate if not. the only reason I'm qestioning this is I'm a hyper conservitive atheist whose suffered through many a church group with my girlfriends and am aware this christian stuff can be this insane. incase it's real the goal of yoga has nothing to do with consumming your cock. There are sexual practices that me and my born-again girlfriend do they're mainly ways of becomming more deeply attuned with oneanother and acieving unity with 'God,"

Joseph Clark
---
Loved your quiz! Did not appreicate being called an unsaved Moron for missing an answer! I would definitely change that to a polite "wrong". You are sending a message by using "unsaved moron" that you think you are "more spiritual" or "better", which is definitely not a meek Christian attitude.

Any comments, send to ------------------

By the way, I am not an unsaved moron. At least not unsaved!

Kathy
---
THIS IS A WARNING TO ALL WHO DO NOT FOLLOW THE TRUE WORD OF GOD. YOU MUST TEACH AND PREACH EXACTLY WHAT GOD GIVES YOU….DO NOT BOAST NOR TAKE GLORY FOR YOURSELF. GOD IS NOT MOCKED, "WHATSOEVER A MAN SOWETH THAT SHALL HE ALSO REAP"……IF FALSE TEACHINGS ARE BEING TAUGHT TO GODS PEOPLE, THE BLOOD OF MANY ARE UPON YOUR HANDS. PLEASE HEED THIS WARNING.

Lorenzo Furr LV
---
I have just briefly read over your website and I am appalled at your ignorance. Your lack of knowledge of the bible is astounding. you are trying to place your own beliefs and translation of scripture on poor unknowing victims. For example calling Vegans ,Wiccans is one of the most idiotic things I have ever heard.

As stated by Brother Harry Hardwick. In Genesis our original design was to be vegetarian. Genesis Chapter 1 29-30 And God said,"Look! I have given you the seed bearing plants throughout the earth and all the fruit trees for your food. And I have given all the grasses and other green plants to the animals and birds for their food.And so it was.

Real men eat eggs,butter, and meat? get real that is why your pastor is severely obese and will probably die of a heart attack. A brilliant doctor and Christian ,"Don Colbert" would tell you how misguided and wrong you are. Then I see a picture of you burning a cross with what looks to be Klu Klux Klan robes. Is this a joke? I hope so. I am disturbed and horrified by your site. I am even more surprised that your backwoods inbreed church could figure out how to use the internet. You are truly leading people away from the real message of Christ and it will be upon your head, that you are leading them to hell with you. Please do not respond to this email,as I hope I never see or hear anything from your false doctrine church ever again.

Sarah Lilly
---
I started doing the quiz and answered a question wrongly...and was told that I am an unsaved moron. Maybe the quiz is meant as fun but I don't think calling someone a moron is fun. As a Christian I find this offensive.

In Him,

Chris Vickery (a woman!)
---

---
Copyright 1998-2008, Americhrist Ltd. All rights reserved. Terms of Service
The Landover Baptist website is not intended to be viewed by anyone under 18 or Adult Evangelical Christians.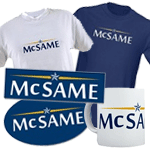 Mc Same Store!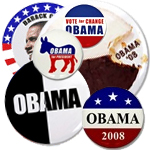 Obama Campaign Store!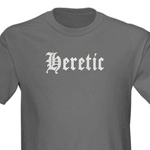 LBC Classic Colored T's!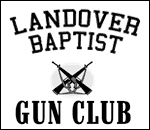 Conservative Attire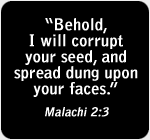 Biblical Wisdom Gear!