NOTE: After taking the Bible based Sex Quiz below, click here to read the Godly Scripture verses that support each correct answer.
For a full list of Landover Baptist Bible Quizzes,

click here.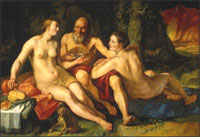 Contrary to popular liberal belief, promiscuity and deviance are not modern cultural creations but have their roots much deeper in human history. Take this quiz to see how Larry Flynt's magazines don't hold a candle to the Lord's original work!
Click Here For Part I Of This Quiz!

Click Here For Part II Of This Quiz!

Click Here For More Landover Baptist Bible Quizzes



---
Copyright 1998-2008, Americhrist Ltd. All rights reserved. Terms of Service
The Landover Baptist website is not intended to be viewed by anyone under 18