Bestiality Bust: Miniature Horses Lure Men Into Local Barn For Oral Sex!
Local News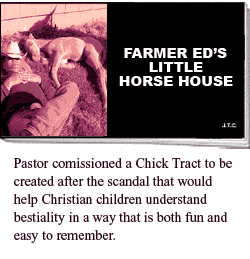 Freehold, Iowa - The expression "miniature horse lovers" took on a unseemly connotation in the paddocks and barns of rural Iowa this past week. An SUV cavalcade sin-posse of fifty deputized Deacons armed with shotguns swarmed the old Walker Farm last Tuesday. Their mission: to bust up a nightly orgy involving several prominent, local businessmen and the shameless miniature horses that had lured them to their barns. These tiny, galloping strumpets had enticed Christian men to the farm solely to engage in ravenous fellatio in exchange for little more than hay, apples and hand-tooled Italian leather saddles. The raid brought to a close these lewd equine's barnyard bacchanalia sex-derby, a depraved gathering that has apparently been going on for nearly a year. "We arrested several Gold Level tithers and their menservants who were holed up in Ed's barn with human fluffers waiting to have unnatural relations with those shameless miniature horses," reported Deacon Will Cummings. "Apparently these hip-height harlots had gotten Ed to use the internet to advertise their lewd business, a so-called "horse house," and he had folks flying in from London and Berlin for a roll in the hay." Church Treasurer, Albert Dashner noted, "Mr. Wilkins' business was apparently very profitable, as church Deacons noticed that collection plates were increasingly filled with enormous wads of cash that reeked of horse sweat."
"Now that I recall a conversation I had with farmer Ed Walker last week, I should have known the Devil was catering a party in his barn," said Pastor Deacon Fred to a closed meeting of church elders. "After services last Sunday, I shook his hand (which I've since washed a hundred times in anointed Clorox handiwipes) and asked him how the horse business was. He said, 'I raise miniature horses now, Pastor.' And he added, 'They are easier to raise, and the best thing about them is they stand about yay-high.' He then motioned with his hand to the exact place an erect penis head would be bobbing and gave me a lascivious grin I haven't seen since I gave a gal in Saigon a box of Psalms-inscribed Ping-Pong balls."
As with all sins, this one can be traced to folks who aren't American. Men having sexual relations with horse-like creatures was legitimized in Britain by the recent marriage of Prince Charles to Camilla Parker Bowels. The problem in the more godly United States , however, seems to be more strictly confined to miniature horses. Early American historical records indicate that these tiny beasts were originally created by the Lord so that Puritan dwarves could saddle up and escape from scalping Injuns on the warpath. Unfortunately, the fact that their wet, inviting little horse mouths hover conveniently at crotch level, and the beasts will lick anything with a sugar cube on the tip of it, has led many non-dwarves to unzip and partake in the equine pleasures of forbidden barnyard delights. In some towns in the west, miniature horse bonking has become such a popular pastime, "horse houses" have opened above salons. On the bright side, since the price for sexual release is just a post-climax apple, horse harlots are now driving their human counterparts out of business, as human whores find it hard to sell their more expensive and less accommodating wet openings in town.
Pastor Deacon Fred assured the congregation last Sunday that they should not worry about an outbreak of bestiality at Landover Baptist just as long as everyone deletes e-mails inviting them to purchase one of Farmer Ed's Horse House lucrative franchises. "We stopped this sin and the sinners have faced just retribution. The Gold Level tithers entrapped into having their tallywackers tickled have been fined and their identities shall remain confidential just as long as their checks keep clearing. As for the real cause of this vile sinning, we are proud to announce that we will be break ground tomorrow on a new prayer pavilion as special thank-you for our generous donation to the Elmer's Glue plant in Des Moines ."
---

Copyright 2004-2006, Americhrist Ltd. All rights reserved. Terms of Service
The Landover Baptist website is not intended to be viewed by anyone under 18