Youth Pastors Unveil Theme For Hell House 2004:
John Kerry's Bloodcurdling Agenda For America!
LOCAL NEWS: Plans Underway for Hell House 2004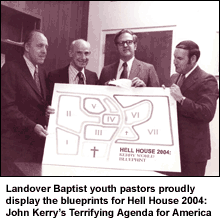 Freehold, Iowa - As the Devil's Birthday (Halloween) draws nigh, all across America, thousands of Baptist churches busily prepare for the only time out of each year when unsaved people are allowed to approach them uninvited. The unsaved are charged a small fee to enter Baptist Halloween Hell Houses where they tour rooms which expose them to the horrors of Hell. After each visit, participants are escorted into a tent where they are confronted with the gospel message. They are told that our loving God has far more sinister and sadistic plans in store for them than anything they have just witnessed in Hell House. They are then told that the only way to avoid the wrath of God's short temper is through flattery. They are given an opportunity to accept God's Son or perish forever in the flames of God's personal torture chamber, "The Lake of Fire."
Landover Baptist Church has a national reputation for running the largest and most powerful Halloween Hell House in the United States. Each year, visitors drive for hundreds of miles, just to see and experience the Landover Baptist Hell House. If you can't make the trip to Freehold, Iowa this year, then please visit our interactive online Hell House online by clicking here. You can also read about last year's Hell House by clicking here.
The theme for this year's Landover Baptist Hell House is, "John Kerry's Bloodcurdling Agenda For America." The event will take place at the Landover Baptist Creation Science Zoo from October 15 - November 2. Participants will be guided into different areas where they will be exposed to the horrifying reality of what America would be like, if by some hellish miracle, John Kerry were to become President. The Landover Baptist Youth Group has seven areas planned for the event. A summary of each area can be found below. We hope to see you at this year's Hell House! And remember to bring along an unsaved Demoncrat! We guarantee they will switch parties and pants before they leave our church property!
HELL HOUSE 2004:
"John Kerry's Bloodcurdling Agenda For America!"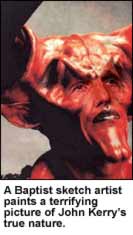 Area #1 - Sodomy 101 – Elderly Actors will portray a different-gender couple enjoying their twilight years in a lovely restricted suburban gated subdivision. They politely rebuke each other with scripture as they sway in rocking chairs on their front porch, sipping lemonade with Equal. Suddenly, a loud bell will ring, and dozens of fey young men wearing only tattoos will rush out from the Six Flags Fun Bus to storm the Christian couple's porch and commit sodomy by the swinging-chair until it falls to the floor, bringing the roof down with it. The residents will try to run back into their Victorian house, but colored police officers and the ACLU will appear and force the couple to not only watch the sex-crazed homos, but approve of them. Just before you leave, John Kerry will appear out of the shadows wearing a priest collar and devil horns to marry the old man's wife to a woman who drives an 18-wheeler.
Area #2 - Weapons of Mass Destruction - Participants will be thrust into a scene made to look like the deserted streets of Baghdad, right after President Kerry removes all of the U.S. troops. A young dark-skinned evildoer will come out from behind the corner holding a nuclear bomb the size of a walnut, saying - "look what I just found!" The outdoor lights will dim, and a short film on a giant screen will show the United States being blown up by a nuclear explosion even worse than what we did to the Japs. Satan will cackle his hellish laughter in the background and scream, "The weapon of mass destruction was there all the time – and his name was John Kerry! Muhaahaa haa!"
Area #3 - Purple Hearts for Everyone! - Children are lined up to be vaccinated – now that Democrats are in power, 80% of all public school children have gonorrhea. As the nurse pricks each child with the needle, Jesus floats down from the sky to give each of them a Purple Heart ribbon. Satan will then pop his giant red head out of the ground to give Purple Hearts and Kennedy Center Honors to the children whose venereal diseases were too advanced to waste vaccines on.
Area #4 - Christians in Jail - Children will enter a jailhouse filled with white Christian men, praying quietly while being sodomized with relish by male security guards that all look like Janet Reno. Five of the Janet Renos will hold the Christian men down, while the remaining Janet Renos break into two groups: one to orally stimulate the anuses of the prisoners, the other to brandish lasers to obliterate the cross tattoos on the prisoners skin that once showed their dedication to our faith's registered trademark. Next, a throng of belligerent liberals will steal all of the Bibles being carried by the Christian men. They will deposit the Bibles at the feet of the liberal goddess – Oprah Winfrey. Oprah will then tear pages from the Bible and slowly begin to wipe her behind with them - looking directly into the eyes of the visitors, she will exclaim, "You go, girl -- this do make me some mighty fine toilet paper!" Oprah will then throw her enormous wig back and cackle like the devil's imp, making the children smell the soiled pages of scripture.
Area #5 - Picking Stem Cells - The Landover Baptist Nursery School has agreed to provide over 200 infants on six separate evenings for this exciting demonstration. Participants will enter a large garden area where they will see hundreds of little infants dressed up as stem cells. A Pastor in stilts, dressed in a John Kerry costume will move through the field of stem cells like an evil scarecrow. He will randomly snatch up a half-dozen or so, shoving them under his arms and jamming them into his giant pockets, saying, "It's off to the lab with you! We're going to turn you into Botox so some Hollywood liberal can look like she's been turned into a pillar of salt." Just as Mr. Kerry exits, Nancy Reagan, in red Adolfo hot pants will harvest a score of beautiful little embryos with a pitchfork, telling each, "You're going to look swell in Lucite. Stem cell research is leading to the discovery of new paperweights every day!"
Area #6 - The French Invasion - Participants will enter a large outdoor cafe area. They will witness groups of very pale people sipping acrid coffee, smoking unfiltered cigarettes, wearing goatees and beanies and running out of the room each time they see a mouse or their own shadow.. As the participants draw closer they will be exposed to malodorous aroma of unbathed bodies mixed with an overly ripe blue cheese. As they rush to the exits for fresh air, a sign will taunt them: "Bon Jour! President John Kerry Welcomes Vou to New Paris (formerly Washington DC)." They will not understand a word anyone is saying in their own nation's capital because everyone, including their President, is speaking a tongue even Pentecostals eschew: French
Area # 7 - There goes the NeighborHOOD! - Participants will be introduced to the harsh reality of drugged-out Democrats – everything from the peacenik hippies to the colored welfare queens, made cocky with their death-sentence-adverse president in power, marauding through our churches and luring our children into transvestitism and class action suits. Once Kerry is in power, Puerto Rican and other Mexican gangs will roam free throughout Iowa, stealing our innocence and our underpants, polluting the chaste minds of our Godly wives with wicked notions that oral sex is performed on anyone other than the husband.

---

---
Copyright 1998-2007, Americhrist Ltd. All rights reserved. Terms of Service
The Landover Baptist website is not intended to be viewed by anyone under 18