CHRISTIAN ADVERTISEMENT:
Custom Designed Menstrual Shacks Exquisitely Crafted by Fundamentalist Baptist Architect, William Hargraves.
To schedule a formal design meeting with Hargraves Inc. please contact your Christian Property Commissioner or assigned Deacon.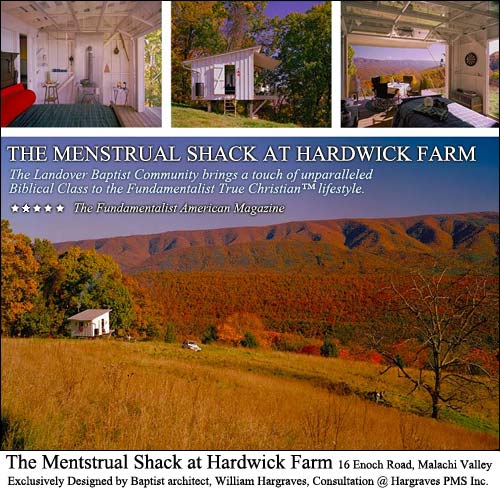 A Biblical Curse, A Husband's Comfort:
The Menstrual Shack at Hardwick Farm was designed and built by Fundamentalist Baptist architect, William Hargraves. It was featured in this month's issue of Fundamentalist American Magazine. Itís a perfect example of form follows function. It can accommodate a single Fundamentalist female weighing up to 600 pounds, which is precisely why Landover Baptist's Pastor Deacon Fred was so attracted to the design.
Personal Testimony:
"When I hear the first sign of nagging, I pop in my ear-plugs, load my wife, Macel into the back of our Hummer and make the two-minute trek over rough terrain due-south of our Christian summer home. I can view Macel at my Godly leisure though a telescope installed on the deck outside of my Estate library to make sure the shack has not shook loose of its foundation. I can also simply turn my head and vomit right off the deck into the garden instead over the bedpost onto the floor, if I happen to catch a glimpse of her unclothed. Thank-YOU! Mr. Hargraves! You have made a Christian gentleman very happy for almost 40 days out of each year! Glory! - Pastor, Deacon Fred.
A Comfort For the Afflicted and Unclean Female:
Located over 700 cubits from Pastor's residence at Hardwick Farm, heat and hot water is supplied via a Franklin wood burning stove and meticulously re-created New Testament olive oil lamps provide lighting enough for Bible reading and devotions. Handcrafted turtle boxes and pigeon cages are fully stocked and located within a 2-minute hobble of the menstrual shack. The carefully placed wildlife items provide the habitant with precious company during her seven or so day separation. They also serve as a sacred reminder of her atonement as she struggles with her period of sin. Sanitized "String-to-Can" communication is part of the whole package for use in any "real" emergency. Accessed without a road and perched above a beautiful view of Malachi Valley, this quaint little custom made menstrual shack is simply beautiful.
A Cleansed Wife, Returned to Service:
The location and design of this exquisite Menstrual Shack provide Mrs. Deacon Fred (Macel Sue Anne Jenkins) with the tranquility, peace, and solitude needed to endure her monthly curse. When her cleanliness is restored, she returns to her husband and her family invigorated, refreshed and eager to clean her husband's 17-room Christian Estate. She is revitalized with the spirit of her natural duty and filled again with the precious womanly gift of servitude as she finds strength enough to carefully prepare her "Welcome Back Home Mommy!" dinner for the 12 family and 22 extended family members currently residing at Hardwick Farm.
---
Exclusive for Landover Baptist Church Members Residing West of Highway 7
Available to Silver Tier - Platinum Level Tithers with East Malachi Valley Summer Homes ONLY


COUPON: 4% Discount on Hargrages Inc. Menstra- Shack Design Consultation! Ends April 24, 2009


Print this Page Coupon! And Bring it to Your First Consultation!:
---
Hargraves Inc. Menstrual Shacks - Legal Advice, Mission Statement and Consultations
Consultation Appointments:
Fundamentalist Baptist architect, William Hargraves Custom Designed Menstrual Shacks are exclusively available to Landover Baptist Platinum Tithers residing in the gated Christian communities of Leviticus Acres, Exodus Landing and Malachi Valley of Freehold County, Iowa. Over 20 custom made menstruation shacks have been designed and 12 are on order to be completed by Summer 2009.
Hemopurifier Cleaning Consultation:
Hargraves Inc. recommends, "Lucia Sanchez Evanjelico Ex-Catholic Maid Services" for monthly menstra-shack disinfection and cleaning.
Hargaves Inc. "Custom Menstrual Shacks" Scriptural Mission Statement:
"And if a woman have an issue of her blood many days out of the time of her separation, or if it run beyond the time of her separation; all the days of the issue of her uncleanness shall be as the days of her separation: she shall be unclean. Every bed whereon she lieth all the days of her issue shall be unto her as the bed of her separation: and whatsoever she sitteth upon shall be unclean, as the uncleanness of her separation. And whosoever toucheth those things shall be unclean, and shall wash his clothes, and bathe himself in water, and be unclean until the even. But if she be cleansed of her issue, then she shall number to herself seven days, and after that she shall be clean. And on the eighth day she shall take unto her two turtles, or two young pigeons, and bring them unto the priest, to the door of the tabernacle of the congregation. And the priest shall offer the one for a sin offering, and the other for a burnt offering; and the priest shall make an atonement for her before the LORD for the issue of her uncleanness." Leviticus 15: 25-30

---

---
Copyright 2009, LandoverBaptist.Org. All rights reserved. TOS. The Landover Baptist website is not intended to be viewed by anyone under 18 or by anyone who is Unsaved.