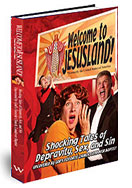 Preview Pages of Welcome to Jesusland! The New Book From Landover Baptist!
In Bookstores Everywhere: September 2006
From TIME WARNER BOOKS™
Click Here to Order Through Amazon.com
"This book is a required purchase for any True Christian™ who has the slightest bit of interest in the Lord Jesus, God's Country, and the only church in America who has any idea of what the Hell is going on in this god-forsaken fallen world of unsaved trash." - Pastor Deacon Fred.
Welcome to Jesusland*!
(*formerly the United States of America): Shocking Tales of Depravity, Sex, and Sin Uncovered by God's Favorite Church, Landover Baptist.
"A spiritual enema with every flip of the page"
Click Godly Sized Thumbnails Below to Open Preview Pages:

Visit: www.welcometojesusland.com
---

Copyright 1998-2006, Americhrist Ltd. All rights reserved. Terms of Service
The Landover Baptist website is not intended to be viewed by anyone under 18