Filthy Farm Sluts Cuffed and Busted!
Baptist Farmer's Daughters Were Turning Tricks for Tithe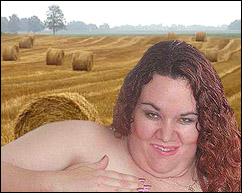 South Freehold, Iowa - In late January, Landover Baptist Pastor, Rev. Henry Wilkins, took a Viagra, put on his cowboy hat, and hopped on his church motorcycle to make the annual 100-mile journey into the remote Baptist farming communities in Southern Freehold, Iowa. He went to collect tithe money and minister to church members. He came home with a bottom full of lead and a hair-raising tale of harlotry in the hay.
"Our Church properties extend over thousands of acres of Iowa's beautiful countryside," said Pastor Deacon Fred after hearing Rev. Wilkins' story. "Even with 310 full time Deacons and 37 Pastors it is still difficult to keep an eye on what is happening in the lives of every church member." Most Landover Baptist Church members voluntarily allow Deacons to place mandatory closed circuit video monitoring devices in their bedrooms, but some members who live in remote regions of Iowa, don't have the luxury of electricity, so Pastors and Deacons must resort to old fashioned house visits in order to keep tabs on church members. These visits often include a small service, prayer, and receipt of delinquent tithes and church property taxes.
"We can't be held responsible for what happens in the barnyard of every hell-bound hillbilly that holes up on the fringes of our church property," Pastor Deacon Fred told federal authorities who, unbeknownst to Pastor, had apparently been monitoring a prostitution ring on the Johnson Farm for over a year. "It's true that Hosea Johnson's family pays an exhorbant annual tithe to this church," continued Pastor, "and that is likely why we saw no need to pay them a visit but once a year. They were Platinum Tithers."
Federal authorities informed Pastor that the Johnson family had been operating several barns of ill repute on Church property for nearly two years. "They've been advertising their, "Hayloft Harlots" in the Des Moines Register for quite some time," said one federal officer. "How could church authorities NOT have heard about this?" Pastor explained that, "like our Godly President, George W. Bush, members of the Landover Baptist Church do not read newspapers. True Christians™ like GW and us, have no business reading anything but the Bible, and maybe on occasion, the Sports page."
Rev. Wilkins' visit to the Johnson Farm and the ensuing shoot-out ended a 2-year federal investigation. Just minutes after Rev. Wilkins sped off in his underwear on the church motorcycle, federal authorities took the entire Johnson family into custody. This included Hosea Johnson, his three former wives, five sons, ten daughters, a 900 LB Heifer, two sows, eight mules, 27 featherless chickens and a satellite internet connection with two servers.
Due to the large amount of annual tithe (over $1.2 million) from the Hosea Johnson family to the Landover Baptist Church, officers would have liked to continue the investigation to see if any church officials, despite their claims of ignorance, were actually aware of the operation. However, federal authorities assured Pastor that the investigation is now officially closed.
Church members were informed that none of the confiscated video evidence at the crime scene implicated Landover Baptist Church as being involved in the prostitution ring. There were however, statements from Farmer Hosea Johnson that his daughters (who were schooled at the Landover Baptist Christian Academy for the Truly Saved™) refused to open their legs for anyone who was unsaved, and in some cases actually led their customers to Christ outside the pig pen on film before disrobing and engaging in what one FBI official called, "hot muddy farm sex with all the animals watching."
"It's true, Jesus forgives prostitutes and lets them into Heaven if they are True Christians®," Pastor Deacon Fred told parishioners the following Sunday. "I want to say that Hosea Johnson's Baptist farm sluts had their hearts in the right place," he continued. "They were willing to do anything to lead the unsaved to Christ, taking folks into their haylofts, chicken coops, and horse sheds -following the Christian example of Jesus' whoring grand-grandma, Rahab. I'm told that Old Farmer Hosea even scrubbed his girls downstairs with a can of Lysol and a wire brush to make sure they were clean from diseases. But that still doesn't make it right with the Lord, my friends." Pastor added that the Apostle Paul informs True Christians® in Romans 13:1 that all authority is from God, and currently, the Iowa State Legislature deems prostitution as an illegal act. "Jesus and I forgive the Johnson family, but I doubt the federal government will show much compassion," said Pastor.


---
Copyright 1998-2007, Americhrist Ltd. All rights reserved. Terms of Service
The Landover Baptist website is not intended to be viewed by anyone under 18