Goodbye Padded Oak Pews, Hello Luxury Leather Recliners!
Official Church Announcement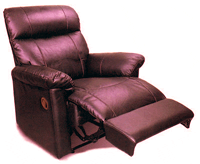 We have some excellent news for major Landover Baptist donors and Platinum Tithers this month! Funds generated from our 2006 Federal Tax Exempt Refund have exceeded our highest expectations. As such, the Board of Deacons has voted unanimously to replace the older luxury padded oak pews for Major Donors in the first 200 rows of the main sanctuary.

"We were going to use this money to help some of the less fortunate folks in our community winterize their homes this year," said Pastor, "just to keep up appearances. But I've gotta tell you, you good Christian people have done such a good job of showing up for church on time and praising the Lord every Sunday, we figured it was time to finally throw a big old Hallelujah Jesus reward your way! Amen? We are ready to stand before our Creator by making the ultimate sacrifice in shutting down our church for construction, so that we might draw closer to the Lord and worship in such a way that is both comfortable, relaxing and luxuriously glorious! We're trying our best to create an environment here at Landover Baptist that comes as close to Heaven as possible. Anything we can do to make your worship experience more Heavenly! Glory to God! We'll put Lakewood to shame! Praise Jesus!"

"The old pews will be replaced with close to 2,000 state-of-the-art imported Italian red leather recliners," Pastor Deacon Fred continued to tell a meeting of select church members earlier this week. "They will be arranged in stadium seating style so each Platinum Tither will have a perfect view of the pulpit, a handsome Pastor, and the jumbo-tron," he continued. "Each seat will have a tiny little cup holder on the arm rest to hold a personally engraved crystal communion cup."

The remaining 400 rows of pews, including 120 rows of balcony pews will receive some of the down padding from the old Major Donor pews. After the old pews are stripped of their padding, they will be removed in their entirety and placed in both the Landover Memorial Chapel on Soulwinner's Lane and the Bubba T. Gatlin Sanctuary and Hunting Lodge out on Old Colebrook Road by Landover Lake.

Construction will begin on Tuesday, April 18th and will continue until the end of May this year. As such, the Main Sanctuary will be closed until further notice. Members are reminded that this does not exclude or exempt you from mandatory church attendance. Please stop by the church secretary's office before April 14th to receive your attendance vouchers which will give you specific instructions on where you will be attending church until construction is complete.

Church members from the 300th row back and parking lot Ting Wing Tithers are required to meet in the old gymnasium next to the Women's Dementia Ward of the Landover Baptist Spiritual Reconditioning Center in Glory Acres. Overflow or late members should attend the Sunday morning, Sunday evening, and Wednesday evening services in the Landover Baptist Junior High for the Saved Auditorium.




---

---
Copyright 1998-2007, Americhrist Ltd. All rights reserved. Terms of Service
The Landover Baptist website is not intended to be viewed by anyone under 18