Win 25 Souls to Jesus Christ by December 25th and Get a Free iPod Nano!
Holiday Soul Winning Contest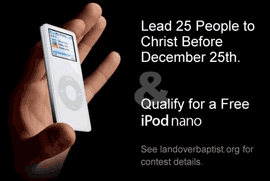 The Landover Baptist Church is pleased to announce our 11th Annual Soul Winning Contest. The contest is open to registered church members, ages 9-16. Winning contestants will qualify for a drawing to be placed in the final drawing to receive a certificate for the grand award drawing to possibly win a free iPod Nano. This amazing new audio device fits into the palm of your hand and is pre-loaded and permanently locked with parental controls so that the winning youth can enjoy countless hours of church hymns, Christian sermons, and songs from our favorite Christian artists like; DC Talk, Steve Green, Ted Nugent, The Gaither Vocal Band, and Prussian Blue.
This contest may not be used in conjunction with any other Landover Baptist salvation offering. Entry fees must be received by November 25, 2005 in order to qualify for the grand award drawing at the 9 A.M. Sunday morning service in the main sanctuary in late December. Youth Pastor, Geoffrey Weaver, will present the winner of the contest with a pre-loaded, unboxed iPod Nano, and a giant print King James Bible. Please see below for contest rules.
Contest Rules:
Contestants must be between the ages of 9-16 and have been members in good standing of the Landover Baptist Church for at least 7-years.
Souls must be won off church property. Our Biblical policy of restricting unsaved people from attending our church or coming within ten miles of our gated perimeter is still in effect for this competition.
Contestants must present their new converts to Pastor Deacon Fred (see church secretary for His daily office hours which may change without notice) for preliminary salvation validation interview.
Contestants must register and submit the contest entry fee of $300 by November 25, 2005 in order to qualify for the free iPod Nano. A blank check, or credit card from a parent, legal guardian or babysitter's purse is acceptable.
Contestants must win at least 25 souls to Christ by the contest deadline on December 25th in order to qualify for the free iPod Nano.
New converts must be able to recite from memory the 10 commandments and at least one New Testament verse within two days of receiving Christ.
New converts may not be won through any other contest offerings such as the Free Playstation 2 offer.
New converts must be members of a household possessing a gross annual income exceeding $75,000.
New converts must make a good faith tithe offering in the amount of $100 to the Landover Baptist Church within 8 hours of accepting Christ as their Personal Savior.
New converts may not be a member of the contestant's immediate family to the third.
Souls won during the bi-weekly Junior High gunpoint salvation retreats do not qualify for this contest.
Souls won in the Landover Baptist Christian Mall or any Landover Baptist owned properties do not qualify for this contest.
Good luck to all contest participants and happy soul winning this holiday season!

---
---
Copyright 2005, Americhrist Ltd. All rights reserved. Terms of Service
The Landover Baptist website is not intended to be viewed by anyone under 18