Regarding the Ads For Body Piercing on Our Church Web Site
Landover Baptist Press Release and Official Statement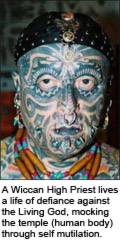 Freehold, Iowa - It has been brought to our attention there have been an unusual amount of ungodly Google ads that are popping up on our web site. One particular advertisement for so-called, "tongue rings," is juxtaposed betwixt good Christian advertising and a very important article regarding the dangers of Oral Sex. This is both disconcerting and misleading. We want all of our readers to know that we are opposed to piercing of the human body in any form (other than the hands and feet of the Lord Jesus Christ - for He was pierced for our sins and thus died in our stead so that we may never be pierced as such).

We believe that piercing is an act of rebellion against the temple of God (the human body). Recent reports from our Creation Science laboratory indicate that the piercing of the tongue in particular is a common practice among Wiccans, lesbians, nudists and skateboarders. These groups of people glory in the practice and appearance of evil. You might ask yourself why skatateboarding is in this same category. Well, there is an entire subculture of wicked children with baggy clothes running around using wheels instead of their feet! Moving and going places no decent God fearing Christian would dare to go in half the time it takes to get there. It couldn't be more clear.

We currently have a team of Jewish lawyers battling Google to get our ad placements straightened out. Until such a time, please try to avoid clicking on advertisements that would generate income to support the practice of body piercing, the Wiccan subculture or any other indecent product.

This is an official Press Release from the Landover Baptist Church, Freehold, Iowa.




---

---
Copyright 1998-2007, Americhrist Ltd. All rights reserved. Terms of Service
The Landover Baptist website is not intended to be viewed by anyone under 18