175th Annual Personal Testimony Contest
Win a Free T-Shirt of Your Choice!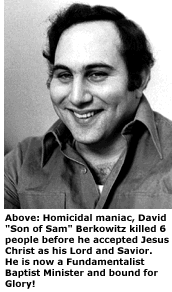 Just how bad were you before you got saved? We'd like to know!

The Landover Baptist Church is proud to present its 175th annual Personal Testimony Contest, a challenging competition where the Christian who led the most terrible life before salvation wins! What kind of a person were you before you met the Lord? We already know that you were serving Satan, but in what capacity? How far down into Hell's sewer did you get? Were you a murderer? Were you a child molester? Were you a homosexual? A Catholic? A Jew? Or a magic underwear-wearing Mormon? We hate to be redundant here, but we'd like to find out as much as possible about your pre-salvation experience.

People outside of Landover Baptist may enter this competition through e-mail. Yes! This contest is open to the Christian public! All you need to do is compose your personal testimony in 500 words or less and mail it in to this address: contest2006@landoverbaptist.org. Your testimony will be reviewed by a qualified staff of Baptist professionals at the Landover Baptist Personal Testimony Improvement Center. The contest deadline is March 1, 2006. If your testimony makes it to the final round, it could be displayed on our website for all the world to see! The winner will be contacted directly by our final judge, Pastor Deacon Fred, and will receive a free T-Shirt of the winner's choice from our online store!

So what kind of a devil-loving, limp-wristed pansy were you? How long have you been sinking your teeth into Satan's pot roast of perversion? Spare us NO details! This is your chance to get behind the pulpit and spill your guts. You will have an audience of Baptists who live for hearing entertaining testimonies that focus on all the horrible things a person could ever do. Be sure to add a one or two sentence "quip" at the end, telling us how or where you got saved.

Remember, the contest deadline is March 1, 2006. The winner will be announced then and the winner's personal testimony posted to our website in the May 2006 newsletter! You have time to start going back. Start remembering what it was like to be unsaved. Let the horrible memories resurface. Immerse yourself in a pre-salvation experience to the point where you feel the fires of hell lapping away at your hind side once again, then take pen to paper, or fingers to keyboard and spill it out and send it to us! We'll tell you if it's worth a shot of crap in the devil's Johnny! Praise the Lord!

---

---
Copyright 1998-2007, Americhrist Ltd. All rights reserved. Terms of Service
The Landover Baptist website is not intended to be viewed by anyone under 18