Landover Baptist University Announces New Advanced Degree in Motherhood!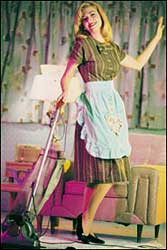 Freehold, Iowa - Landover Baptist University for the Saved is proud to announce a new advanced degree program in Motherhood from our nationally respected school of Marriage and Family. With 5-minute classes, the coursework is specifically tailored to the flighty attention spans of fidgety fussbudgets with vaginas. The University's Missus of Cupcake Icing and Domestic Subjugation degree prepares female graduates for the rewarding Christian role of wordless, smiling servitude in Baptist husbandry. The core coursework also prepares the weaker gender for Christian Child Management, from slapping the love of Jesus in to an infant to jail visitation protocols during the latter years of a mother-child relationship. Students are taught the honored role of woman throughout Christian history as they scrub and wax the floor of the classroom -- and press and remove the lint from their professor's topcoat. The program offers a multidisciplinary Biblically grounded flavor and draws on the experimental teachings of world renowned Demonologist and Creation Scientist, Dr. Jonathan Edwards. The degree can be completed for as little as $67,000 if you supply your own toilet cleaning supplies. We are now accepting Christian ladies (both married and unspoiled) with Bachelorette degrees from accredited Bible study and/or recipe swapping websites. Widows, single mothers, or divorcees will not be accepted into the program for Biblical reasons.

If you are interested, please contact the Landover Baptist University for the Saved School of Marriage and Family before Fall registration. The three semester curriculum includes:
Advanced Degree in Motherhood - Tri-Semester Curriculum:

1st Semester

503 - Early Baptist Husbandry (4) - Defining a new Baptist wife's role as servant to her husband, learning to be joyful in submission to a Godly husband, scripture memory.
505 - Wifely Care and Grooming (4) - Christian hygiene, proper application of makeup and cosmetics, clothing choices, bathroom etiquette, diet and weight management, tampon abuse.
508 - Early Baptist Homemaking (4) - Decorating with silk flowers and Precious Moments figurines, underwear darning lessons, advanced vacuuming, removing clogs from kitchen disposals without sacrificing more than one digit, cooking wholesome American fried foods for a man of God, bed making, trash disposal, listening to and performing successfully husbandly demands and orders.

2nd Semester

510 - Early Baptist Sexuality (4) - What is an "orgasm?" and how to avoid having one, undefiling a wedding bed, early upper body massage, light petting, kissing 101, laying still, scripture memory.
521 - Baptist Pregnancy (4) - Keeping up with household duties, advanced Baptist husbandry, advanced care and grooming, putting your Godly husband first in times of stress and sickness, scripture reading to your unborn baby, getting your own damned pickles and ice cream in the middle of the night.
527 - Baptist Birthing (4) - Creation science and the miracle of birth, Breastfeeding - a Gateway Sin, Resuming the joys of full submission to your Godly husband upon returning from the hospital.

3rd Semester

532 - The Joys of Marriage and Family (4) - Remedial homeskooling, bed-time prayers, preparing a first vacation, ignoring your personal needs, finding your identity through your husband.
537 - Advanced Homemaking (4) - Cooking for more than one, choosing which Campbell's soup to use in each night's casserole, entertaining wealthy Christian guests, advanced grocery shopping, advanced scrubbing, completing your child's chores, expert Baptist husbandry techniques, early church involvement, family scripture time, advanced prayer, gardening 101.
539 - Baptist Motherhood (4) - When a Sissy-Boy says "no" to sports, raising a Christian daughter in a wicked world, running a black light over your son's sheets, keeping yourself attractive enough to stimulate your husband in the later years lest the Lord call him to find someone who will, letting go of your children, care and management of your husband in the later years, advanced church involvement, remembering Pastor in your will, avoiding gossip, advanced gardening, remedial knitting, coming out of a crisis of faith ("should I spend this money on prescription poison from large pharmaceutical companies or tithe?") with a victory!

---

---
Copyright 1998-ROJC, Landover Baptist Church™ All rights reserved. Terms of Service
The Landover Baptist website is not intended to be viewed by anyone unsaved or under 18.