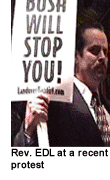 Who is Reverend E. Dwayne Looper (EDL)? And what of his large, extended family? EDL is a middle-aged Southern Baptist minister and anti-homosexual activist. Aside from this, he is a largely a self-aggrandizing failure in the vein of Bob Larson. His one attempt to get rich ended in charges from the FDA and an IRS investigation. Afer which he fled to Moosejaw, Saskatchewan, Canada, to avoid legal problems.

Returning (legally) to Freehold, Iowa, in January 2000, EDL was placed in charge of the George & Jesus 2000 campaign. It was learned that Rev. Looper grew up with George W. Bush in Texas and prior to Bush's run for governor of the Lone Star state, EDL correctly discerned that Bush was possessed by a demon of stupidity and delivered him from it. As a result, GW fell into Rev. Looper's debt and ended all of the Clinton-era persecutions that came about as a result of the Looper Gospeltory.

Rev. Looper is not only a pastor, but an outreach minister. He travels around this Godly nation protesting the presence of Satan at films, bath houses, cooking shows, hair salons, pet stores, and flea markets throughout this Godly nation. While in Freehold, he resides with his lovely wife, E. Lou Ann, in a Christian mansion near Isaiah's creek."