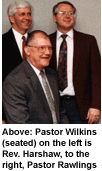 Rev. Wilkins is a childhood friend of Pastor Deacon Fred's older brother, Joe Smith. "We used to backslide together," Wilkins recalls, "our daddies used to run shine across the Wisconsin border back when Big Daddy Joe and One Eye Willie ran the whole operation. I ain't proud of those days. I wish I could have won my daddy's soul. I wish I could have the assurance that I'd see him in Glory." Joe Smith notes, "Both our daddies are in Hell. They sinned like it was goin' out of style. Jim and I got caught up backsliding together in the old days, but when our daddies died, we got down on our knees and prayed to God in heaven to let us not follow in their footsteps."

Rev. Wilkins currently heads up the "One Church on Every City Block Foundation." A Godly effort to get a church built on every city block in the United States by the year 2010. Wilkins points out that "96% of the world's population is concentrated in this little country we call the United States of America. Only 2% are saved, Bible believing Baptist Christians. Only 4% have heard the gospel! We intend to make certain that the large number of people living in the United States have a chance to hear the gospel thousands of times. There is a great need for Christians here in the United States. Virtually no one has had a chance to hear the message of Christ."

Rev. Wilkins preaches at the 9am service in the 10,000 seat Silver Sanctuary in Landover Village (reserved seating only). He then makes the 2 mile trek in his Suburban up Soulwinner's Lane, to preach at the 1pm service in the 2,000 seat Warshaw Memorial Church. He is currently working on his fourth book entitled, "For the 100th Time, Here's The Gospel!."