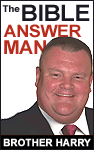 Known throughout the Christian world as "The Bible Answer Man," Brother Harry Hardwick was the first draft pick in the Southern Baptist League of Pastors 1962 season. He currently serves as an honorary pastor. Brother Harry's fire and brimstone sermons are wildly popular, and he holds the record for filling the most number of souls with the Holy Spirit while inducing the most convulsions in a single sermon. Nevertheless, Brother Harry cannot accept permanent pastor status due to a conflict of interest with some of his business dealings. Ongoing disputes with the IRS preclude Brother Harry from discussing this matter in more detail.

Brother Harry and his lovely wife, Heather, have 12 children, all boys, each named after one of the apostles. Brother Harry owns a home in Freehold along with property in other undisclosed locations. Brother Harry's Christian philosophy is simple: Accepting Jesus is a prerequisite, not the final hurdle, to gaining a foothold in Heaven. One must also follow all the passages of the Bible, no matter how unpleasant or violent, to fellowship with our Lord for eternity.

His favorite Bible passage comes from Leviticus 21:16-21. "Whosoever he be of thy seed in their generations that hath any blemish, let him not approach to offer the bread of his God. . . . a blind man, or a lame, or he that hath a flat nose, or any thing superfluous, Or a man that is brokenfooted, or broken-handed, Or croockbackt, or a dwarf, or that hath a blemish in his eye, or be scurvy, or scabbed, or hath his stones broken . . . he hath a blemish; he shall not come nigh to offer the bread of his God."