Edna Denkins

LOST LITTLE LAMB OF THE LORD - SECRETARY TO PASTOR DEACON FRED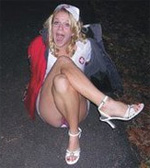 The Denkins Family tree has many branches in need of pruning. Edna Denkins, like her Aunt, Dora Denkins, is one of those branches. Edna joined the Landover Baptist Church Staff in late 2009 after winning both an online and local contest called "Pastor Deacon Fred's Secretary for a Day Contest."

After meeting Pastor Deacon Fred for a private prayer, the two became very close, and Pastor ordained her as his permanent personal secretary.

Edna was educated at Landover Baptist Academy for the Saved™, and completed several courses in remedial homemaking at the Freehold, Iowa Community College before becoming a salaried member of the Landover Baptist Church Staff.

Edna accompanies Pastor Deacon Fred on his trips to conferences and also joins him on his family vacations.

UPDATE: Since the incarceration of Pastor Deacon Fred, the Board of Deacons learned that (among other things too vile to mention on a Christian web page) Edna Denkins is the sole proprietor of Pastor's personal Facebook password! She has been updating his Facebook page since May of 2010 to keep the public informed of Pastor's predicament.

Since the transfer of Pastoral power in June of 2010, Edna Denkins has become a fugitive from the Lord. Her whereabouts are unknown, although she continues to update Pastor's Facebook page and has created a Facebook page of her own.

If any church member knows the whereabouts of Edna Denkins, you are required to inform a Baptist Police Officer immediately! She is in possession of church property is considered "mentally unstable."



.