INTERNATIONAL PRESS RELEASE:
BALANCE OF POWER SHIFTS AT LANDOVER BAPTIST CHURCH
PUBLIC RELEASE | OFFICIAL STATEMENT TO WORLDWIDE MEDIA
Wednesday, June 9, 2010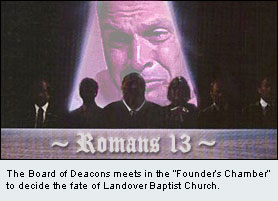 Freehold, Iowa - After nearly two-months of prayer and $3.5 million worth of legal fees paid to Pastor Deacon Fred's team of Jewish lawyers, the Landover Baptist Board of Deacons announces that Brother Harry Hardwick (The Bible Answer Man) will assume the role of "Head Pastor" of the Landover Baptist Church until further notice. Former Head Pastor, Deacon Fred remains incarcerated in a Fort Madison County Iowa Jail where he continues to undergo appeals with an Atheist judge for his release. All appeals henceforth are at Pastor Deacon Fred's personal expense.
Brother Hardwick, from this day henceforth is to be referred to as Rev. Pastor, Brother Harry Hardwick. Any church member failing to address him accordingly in public or in private will be fined at a fee to be decided on a "per-case basis" by Rev. Pastor Hardwick himeself (Romans 13).
On June 6 at 11:30 PM CST (in the year, day, hour, and minute of our Lord Jesus Christ), Brother Hardwick was re-baptized in a private ceremony one half mile below sacred ground in "The Founder's Chamber,*" by the Board of Deacons.
Rev. Pastor Hardwick's first edict upon receiving his appointment of authority was to remove chief executives on the Landover Baptist Board of Directors who were family members or close to Pastor Deacon Fred. Rev. Pastor Hardwick replaced 3 board members with his most trusted old roommates from Landover Baptist University. Rev. Pastor Hardwick also appointed Mrs. Betty Bowers, America's Best Christian™ as Chief Financial Officer (CFO) of Landover Baptist Church Worldwide Ministries, Inc., Wexler Offshore Holdings, LTD., and The Facility for the Treatment of Pre-Sodomites™ in North Dakota. This position was formerly held by Pastor Deacon Fred who served as Head Pastor, CFO, CEO, CPA and CSMF of each of the organizations stated above. The Board of Deacons unanimously agreed that this was probably not a good idea to begin with regardless of the purity of Pastor's Mayflower bloodline.
TRANSFER OF THE LORD'S AUTHORITY STATEMENT
IN FULL ACCORDANCE WITH THE KING JAMES 1611 HOLY BIBLE. ROMANS, CHAPTER 13.
LANDOVER BAPTIST FOUNDER'S CHAMBER June 6, 2010.

Rev. Pastor, Brother Harry Hardwick Jr. IV (a dear and close childhood friend of Pastor Deacon Fred Smith - who is incarcerated and hereby incapable of performing his duties) has assumed complete leadership and control of the largest and most powerful assembly of True and Worthwhile Christians™ in the entire physical universe, the Landover Baptist Church™.

As hereby ordered and ordained by Jesus Christ our Lord and the Landover Baptist Board of Deacons in the Founder's Chamber below Freehold Iowa on June 6, 2010.

CHANGES TO CHURCH SCHEDULE AND MINISTRIES

Church members are hereby informed that all 53 weekly Church services will continue as scheduled except for the Wednesday evening service in the old rural chapel on Soulwinner's lane. That service will be shortened by 15 minutes, and fellowship time will be extended by an additional 15 minutes. Dress will remain "Executive Christian Business Formal."

Landover Baptist Church members will continue to receive their news through the Landover Baptist Church web page and online newsletter at http://www.landoverbaptist.org.

FUGITIVE ALERT

As most church members are aware, the Board of Deacons and the Freehold, Iowa Baptist Police Department have been working diligently to secure the password to Pastor Deacon Fred's Facebook account from his personal secretary, Edna Denkins.

At the time of this announcement, Ms. Denkins is still at large, having fled Landover Baptist Church property. Church members with any information as to her whereabouts are to contact Rev. Pastor Hardwick or your local Baptist police department immediately!

Sister Edna is in possession of church property and is emotionally unstable.

----------------
*The "Founders Chamber" has only been used 35 times in the last 300 years to induct emergency pastorships. The last time the chamber was used was in 1864 during the Great Freehold Rebellion and the subsequent Iowa State Masturbation Epidemic.
The "Founders Chamber" was created shortly after Rev. Enoch Smithe placed the cornerstone on the First Baptist Church in Land Over to the West in Freehold Iowa.