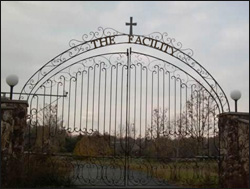 Salvation Mt, ND - Landover Baptist Church announces its Facility in North Dakota will be opening its doors to children of non-church members for the first time in its 160-year history. "We are welcoming Tea Party toddlers and will be interviewing offspring of other Christian Militia groups across this great nation of ours starting this summer!" Pastor Deacon Fred told James Dobson during an interview earlier this week. "The Facility has had a 100% success rate in the treatment of pre-existing conditions in children which would otherwise jeopardize their eternal security," he continued. "Each child who leaves The Facility does so with an "EX" in front of whatever sinful condition they entered. Some children never leave, but among the two or three that have, none of them were found to exhibit pre-Sodomic behavior after extensive testing. They were released as Ex-non-pre-sodomites whose parents had placed them for safe-keeping while they were on vacation."
HISTORY
The Facility was acquired by the Landover Baptist Board of Deacons in 1847 from the Salvation County Department of Medicine in North Dakota. From its inception, The Facility has been used to treat people afflicted with demons, primarily - the demons of dementia that possessed the wives of Confederate soldiers who had slept with colored men during and after the Civil War. Children say they can hear the blood-curdling screams of ladies with southern accents echoing through the dark corridors of The Facility at night. May God be praised.
You might have seen our Facility brochure (posted above) in your local Christian Newspaper. Please read through it thoroughly to see if The Facility is right for your child -- then say a prayer and set up an interview! We're waiting to hear from you!