Creation Scientist Granted Permission to Study Source of Rise in Male Masturbation!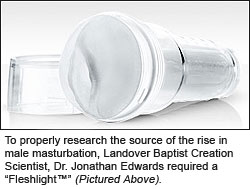 Freehold, Iowa - Dr. Jonathan Edwards, Chief Intelligent Design Specialist at Landover Baptist University's Department of Creation Science, alerted church members and students earlier this month that the Lord Jesus Christ was calling him to conduct controversial research into the source of a rise in masturbation among unsaved males. "We should all be concerned if the cause of this rise could in some way affect Baptist men downstream," he said.
Dr. Edwards then went before the Board of Deacons to plead his case for immediate assistance in securing a "Flesh Light™" which he claimed was needed "of the utmost necessity" to properly conduct his research. Pastor Deacon Fred immediately accepted the task, based on Dr. Edwards' world renowned reputation as a respected Creation Scientist and Christian Family Doctor.
Several meetings were held, and sometime in the middle of April, the Board of Deacons unanimously agreed that Pastor Deacon Fred would be sent on a mission to secure the device for Dr. Edwards.
Pastor took up the cross of Christ after dropping his granddaughter off at her unsaved mother's house in downtown Des Moines and made his way toward an Adult Gift Shop. Before going inside, he entered a dark alley where he could safely put on the hippy disguise he had hidden in his granddaughter's "Hello Jesus™" tote bag.
Pastor then knelt down to pray in front of a homeless man for 10-minutes. The footage hasn't been leaked to the media, but its only a matter of time. We note it here so our tithing church members, and True Christians™ reading this article will have a better understanding of how liberals twist so-called, "reality" into so-called, "facts," and feel it is their obligation to report this sort of nonsense to the public.
In addition, church members should cast their worries aside if they stumble upon a lengthy video of Pastor Deacon Fred browsing through an Adult Gift Shop, exchanging bromides with a scantily clad colored woman and disappearing behind a counter. Pastor Deacon Fred was simply there to secure a device for Landover Baptist University's Department of Creation Science. The tribulations and trials he suffered along the way, are simply The Lord's Business™ and no concern of yours.
Dr. Edwards was given the "Flesh Light™" that self-same evening, along with a roll of paper towels, a box of corn starch and a large bottle of Astro-Glide lubrication lotion he asked Pastor to pick up on his way home. Dr. Edwards was able to begin conducting his research immediately.
The device will be placed into the hands of gentlemen Creation Scientists at Landover Baptist University's Department of Creation Science after Dr. Edwards' initial 3-week study is complete.
It is estimated Dr. Edwards' staff will justify a full report to church members sometime in the next 48-months.
-------
UPDATE: Dr. Edwards reported to the Board of Deacons in late April that he will need an additional 2-months to conduct his initial research and has requested a leave of absence in order to do so. Church members who are under his medical care are instructed to contact Dr. Sullivan to schedule an appointment. Dr. Edwards asks that he not be bothered until August.