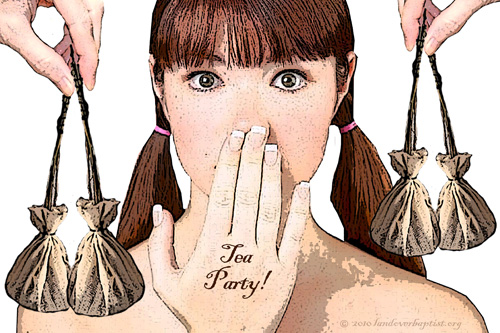 Above: Thousands of silk-screens, T-Shirts, bumper stickers, buttons, magnets and more were found littered along the highway after a top-secret Tea Party promotional truck overturned on I-65 in Iowa on April 28, 2010.
PLEASE VISIT OUR ONLINE GIFT SHOP TO SEE EACH ITEM WE HAVE CLAIMED FROM THE TEA PARTY WRECKAGE. YOU ARE AUTHORIZED TO PURCHASE AND BURN THE ITEM OF YOUR CHOICE!
The Landover Baptist Church has officially claimed all merchandise and is requiring church members and anyone visiting our web site to purchase and wear (or in some cases - PURCHASE AND BURN!) this merchandise from our Online Gift Shop!
IMPORTANT NOTE REGARDING OUR AFFILIATION WITH THE TEA PARTY:
We have always been proud supporters of the Tea Party. But we sadly announce that we will no longer lend our support to an organization who thumbs their nose at Jesus Christ, and ignores His Father's commandments in regard to chaste sexual behavior outside of the Bible.
This might be hard for some folks to believe, but we've seen the contents of the Semi Truck spilled out on I-64. As such, we absolutely and without equivocation believe that the Tea Party is a front for the world's largest Republican Swinger's Club.
Landover Baptist Church's Official Renouncement of all Tea Party Affiliation:
As members of the living Body of Jesus Christ, we 57,894 Church members do hereby make the following renouncements:
We do hereby renounce Satan.
We renounce Satan's Activity in America.
We renounce the Tea Party.
We renounce the exchange (or "swapping") of married partners between caucasian partners for votes.
We renounce the practice of "tea-bagging," and also "light-tea-sacking."
We renounce our support of Sean Hanity.
We renounce our support of Rush Limbaugh.
We renounce all affiliation and support of any conservative with a media presence (except for Ann Coulter) who has not revealed at least 40-years of their sexual history to our church Pastor, Deacon Fred.
---------------
Singed by all church members - any in absentia, laboriously signed by Pastor Deacon Fred on this Day of the Lord, April 29, 2010.