LIMITED TIME SALVATION OFFER!
Get a Free Turkey By Accepting Christ as Your Personal Savior This November!

THIS OFFER ONLY GOOD UNTIL NOVEMBER 25TH! & WHILE SUPPLIES LAST!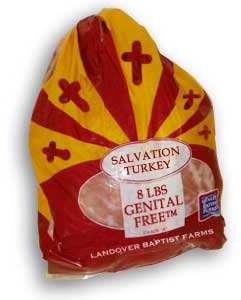 This Sounds Too Good to be True!


This offer has no strings attached other than the strings that hogtie the mouthwatering, steroid-engorged legs of this wonderful gift! We can't make it any easier for you to get a free Thanksgiving turkey! Just accept Jesus into your heart and demonstrate your sincerity by sending us a financial pledge to Christ in the form of a cashier's check in the amount of $500 or more! It's that simple!
Shout Glory! As soon as your check clears, we will send you a delicious genital- free almost-frozen turkey of a weight commensurate with your pledge amount. Yes! There are even more gifts on the way!
Open your purses and wallets and celebrate your new life in Christ! Now that you are a True Christian™, you can give unto the Lord and never have to worry a single bit about money anymore! God will return everything you give a hundred fold based on the measurement of your faith! And that's a deal!
LEGAL NOTICE: Landover Baptist Church will not be held liable for monetary loses based on Celestial Faith to Finance Algorithms. We can only promise that the mechanism for the algorithms was created in Heaven and requires an enormous amount of faith.
A Mouthwatering Turkey and Even More Free Gifts By Expressing Your Faith Based Financial Commitment!
FAITH COMMITMENT FREE GIFT PACKAGE!
| | |
| --- | --- |
| $500 | 8-10 Pound Frozenish Turkey |
| $501 - $1500 | 18-26 Pound Frozenish Turkey and Autographed King James 1611 Bible (Pastor's authentic signature) |
| $1501 - $2500 | 28-34 Pound Frozenish Turkey, Autographed Bible, and Traditional Baptist Holiday Canned Cranberry Sauce Recipe Book |
| $2501 - $6999 | 36-42 Pound Frozenish Turkey, Autographed Bible, Recipe Book, and 1 Can of Ocean Spray Cranberry Sauce |
| $7000 - $10000 | 58-64 Pound Frozenish Turkey, Autographed Bible, Recipe Book, Cranberry Sauce, and Box of Complimentary Plastic Forks |
| $10000+ | 72-84 Pound Creation Science Research experimental Turkey with an attached pig tail and malformed horse nose! (Limited Supply!) Plus: A Bible signed by Pastor Deacon Fred, a Recipe Book, Cranberry Sauce, Box of Forks, a Free Ticket To Church, and one can of Johnson & Johnson's NEW "Off" Injun Repellant |

This offer is a stand-alone opportunity and may not be used in conjunction with any other Landover Baptist Salvation Offers. This includes the Playstation 3 offer, the Free Phone Offer, and the iPod Nano offer. Extra shipping costs will apply to Turkeys weighing over 70 pounds.

Please send your cashier's check confirmation commitment of Christ to:

Landover Baptist Church
c/o Wexler Offshore Holdings
Salvation Offer #296 Holiday Turkey
777 Soulwinner's Lane
Freehold, Iowa
A Word About Christian Turkeys
There is no better way we can think of to celebrate a new life in Christ Jesus than with a delicious turkey dinner given to you at Thanksgiving by a fully clothed white man! Our Christian turkey farmers in Freehold, Iowa are known throughout these United States for producing some of the most enormous fowls in America, using only the very finest of domestic steroids and experimental hormones. They have set aside former child daycare centers this season in order to accommodate this incredible new salvation offer. Unlike commercial turkey farms, we guarantee that our farms are 100% safe from turkey-buggering Native American Injuns and their wobbly-chinned offspring that can be identified by the feathers they wear as part of their Injun DNA. Each of our salvation offer turkeys has its genitals carefully removed and mailed to a synagogue or mosque of your choosing. This is done for your convenience and to avoid any unnatural temptations you might have left over from your former life before you met Jesus. This year, we invite you to use other turkey parts to make your delicious gravy! The turkeys are also quick frozen and specially packaged so they will arrive in your new Christian home only partially thawed. Since God has thawed your frozen heart, we celebrate this spiritual event with you by providing a gift that profoundly symbolizes your transformation into a reverent, genital-less being with a somewhat unfrozen heart. When you receive your frozen turkey, please share the significance of this special love offering as you witness to unsaved family members and friends! Please also use this opportunity to lead others to Christ by offering them some of your turkey. Be a fisher of men by dangling a drumstick on a string in front of a passed-out hobo's nose.