An Open Letter to All Teenage Homosexuals Living on Planet Earth. ~ From Prophetess Debbie
IT GETS WORSE!
God Told Me He Wants Homosexual Boys to Know 2 Things:
Jesus loves you even though you make Him vomit; and...
It gets worse.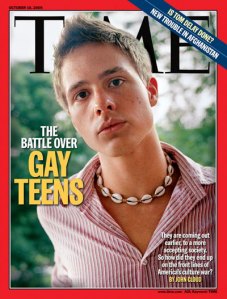 And me and all my fellow True Christians™ are going to make darn tootin' sure that it will continue to get worse until you stop being a damned pervert and become normal, just like me. Nothing is more important to me right now than letting you know how worthless your little life is because you are not living it like me.

America is a Christian country, founded by people who burned witches and hated homos. Secular laws (for now) prevent us from doing the former, but it is the Christian Crusade of the 21st Century to do the latter. So until you turn your life over to Jesus, who will ask you to be exactly like me, we Christians are going to keep telling you that you are sinful and disgusting until you either become right with the Lord and join Jesus in Glory or kill yourself and join your Beast Master in Hell.

And don't tell me that hogwash that Jesus never said one single word about being a homo. He never said anything about wiping your bottom until the paper is no longer brown, but that doesn't mean you shouldn't do it!

I love the Christ Jesus will all my heart and He has convicted me that homosexuality is His Father's vilest creation and that Jesus Himself is whispering in these little homos ears, "Go ahead on do it!" because He has tried and tried and tried to make them Christian but finally realized they were trash lost to Satan.

If any Christians out there know of any teen and preteen homos, let me know their e-mail addresses and/or Facebook accounts. I am organizing Christian Prayer Warriors to hector them until they find Jesus – or a great place to dangle a noose.

We're going to pray the gay away – one way or another!
About Sister Prophetess Debbie:
The Lord has blessed me with the gift of prophesy. Sometimes this is a wonderful, joyful gift; other times, it makes me weep the tears of the righteous for the woes of the lost.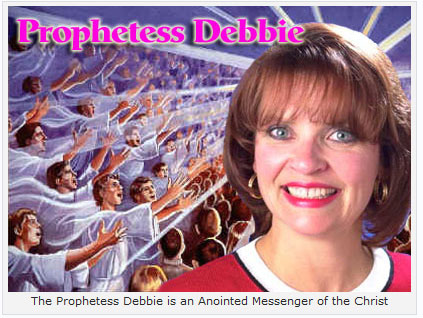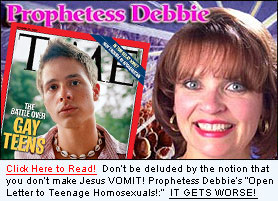 ---


The Landover Baptist Church™ is not intended for readers unsaved or under 18.
About landoverbaptist.com/.org | Advertising information | Help/Feedback
Join Us | Terms of Service | Plan Of Salvation | News Archives | Reader Mail
A Peek Inside Our Best Selling Book: Welcome to Jesusland!