Call the Caterers and Cross Your Fingers!
CRAZY EGYPTIANS JUMP START ARMAGEDDON!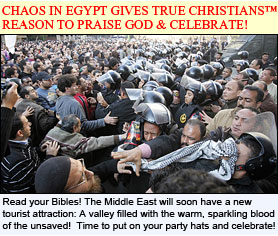 Freehold, Iowa - These are glorious times, indeed! Turmoil in the Middle East is reaching wonderful, epidemic proportions. The towel-heads are killing each other – instead of us. The pretend governments of dune dwelling dictators are toppling. Instability is increasing. It's only a matter of time before the gefilte fish-eating Christ-killers, who panic if someone drops a nickel down the drain, get involved in the act and start one of their indiscriminate bombing runs. The whole place will soon go up in smoke! God willing!
The Landover Baptist Church Ladies Club has already called two reputable caterers, "because we should be celebrating 24/7!" exclaims Sister Macel Smith.
"We can't understand why the media is lamenting these fabulous events in the Middle East," says Brother Harry Hardwick. "Our government acts as though there is some kind of unwanted crisis going on. Most Americans have said they're concerned, whatever that means."
"I thought this country is Christian!" Brother Hardwick's wife, Heather told a reporter from The Daily who interviewed her over the phone yesterday. "Don't people understand that this is beginning of the End Times? The Rapture won't occur until the happy, longed-for time when Israel is finally facing a war that will finally wipe that smug look off of those hook-nosed faces! Read your Bible! The Middle East will soon have a new tourist attraction: A valley filled with the warm, sparkling blood of the unsaved! And I can't wait to call Delta Air Lines!"
"And when ye shall see Jerusalem compassed with armies, then know that the desolation thereof is nigh. Then let them which are in Judea flee to the mountains; and let them which are in the midst of it depart out; and let not them that are in the countries enter thereinto. For these be the days of vengeance, that all things which are written may be fulfilled. But woe unto them that are with child, and to them that give suck, in those days! for there shall be great distress in the land, and wrath upon this people. And they shall fall by the edge of the sword, and shall be led away captive into all nations: and Jerusalem shall be trodden down of the Gentiles, until the times of the Gentiles be fulfilled" (Luke 21:20-24).
"Haven't you ever wondered why evangelical Christian leaders support the hebes over the camel jockeys?," continued Mrs. Hardwick. "Haven't you wondered why the GOP (God's Own Party) supports aid to Israel, when Jews vote overwhelmingly Democrat - or as we Christians call it, Demoncrap? Haven't you thought about why we support those who murdered the Lord and continue to reject Him to this day? (Yes, if the so-called "Holocaust" actually happened, it sounds dreadful, but nothing that may or may not have happened in Germany could ever justify spending American dollars on anything other than the American military.) As True Christians, we believe that everyone who refuses to accept Jesus Christ as his personal Lord and Savior is going to be flayed like a hog on a spit in hell for eternity, meaning all the dreidel-spinning penny-pinchers (who don't convert and really mean it) will be with the real King of the Jews, Satan, forever. So, why do we support these unattractive, pushy people?"
Brother Harry Hardwick explains, "Granted, part of the reason is that Jews control the money and animated feature films in this country and the last thing any politician needs is AIPAC on his back. But the main reason Christian leaders support Israel is that we need that despicable nation to remain in existence just long enough to be destroyed in a prophesied bloody war. Only then will Jesus return, rapture Christians to heaven, then slaughter both the bagel and curry eaters simultaneously, while we watch the glorious carnage from our luxury clouds in heaven. (And the wonderful thing about Heaven is that you can finally add that butter-like oil to your popcorn without gaining any weight!)"
Landover Baptist Church members agree, the End Times have finally started. Chaos has begun in the Middle East. Things are going to get so crazy in Israel, it will make Charlie Sheen's place look like a rest home. "Celebrate it. Revel in it," says Pastor Deacon Fred, "The Middle East is about to break out into huge warfare that will take countless lives. Then, Jesus will return and kill the remaining inhabitants, after whisking the world's born-again, full immersion-baptized Christians to heaven. Glory!"