BANNED CHRISTMAS TOYS 2010!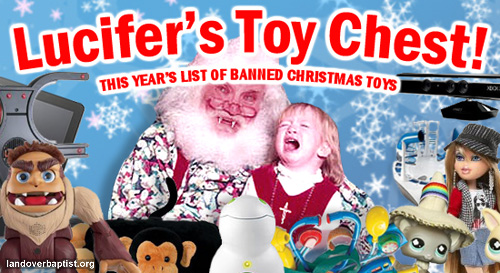 The most dangerous toys ever created by Satan are listed below with specific and explicit details on our findings! Each unChristian item is also linked for even more horrifying details and ignorant secular reports on Amazon.com! Jesus allows us to earn 5% profit from Satan's trickery when you shop for anything at Amazon.com after clicking through any of Lucifer's Favorite Christmas Toys linked below!
BANNED: KINECT SIN SENSOR for X-Box 360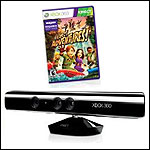 Our Baptist researchers found out the hard way that the Kinect Sensor makes use of body movements and gyrations in a particularly unfamiliar and disturbing activity called, "dancing." After experimenting with the device for nearly two days, three Baptist Pastors were hospitalized with broken hips, two 14 year old girls were accidentally impregnated, and one 10-year old boy had his testicles permanently damaged. None of the volunteer testers had any idea what they were doing or even if they were sinning, until it was too late. If our Baptist research team and volunteers had been informed by Microsoft (the creator of the Kinect Sensor) that they were going to be "dancing," they would have never tested the device. The only redeeming quality of the Kinect Sensor is that the package also comes with a hunting game and all of our researchers are proud to say they got a perfect score before pitching the device into Lucifer's Toy Chest where it will remain forever.
BANNED: PILLOW PET MASTURBATION COMPANIONS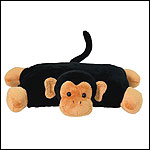 "Pillow Pets" are sexually suggestive, soft, and enticingly tender creatures. They are purposefully marketed to rural conservative families - mostly to our farming communities, many of whom will drive 100-miles to a Wal-Mart just to run their fingers through silky hair of one of these seductive beasts! "Pillow Pets" are strategically displayed with their inviting hind sides open wide and their alluring snouts smiling like the innocent goats and sheep you and your children tend to each day on the farm. Toymakers must know that Christian boys and girls always use pillows to commit the sin of self-abuse (masturbation), as they are forbidden to touch themselves. And, as any Baptist farmer will tell you, masturbation leads to bestiality! Especially if you are masturbating with a pillow that looks like an animal! If you want your child to have a normal sex life on the farm, it would behoove you to keep them away from "Pillow Pets," or they'll be raping your chickens and goats before you can show them how, maybe even before they learn to milk a cow.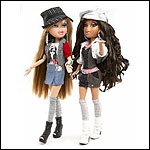 Do you want to purchase a doll that teaches your daughter how to dress like a slut? Do you want your daughter to take off a little boy's clothes and see what he looks like naked? Do you want your children to talk like a Negro while they are playing with their dolls? How about a doll that teaches your daughter how to get a tattoo and trade panties with her friends? Maybe you think it's "a-OK" with Jesus for your daughter to be playing with a naked black boy! Next thing you know, your Christian daughter will turn 21, go off to college and bring home her own black boy! She might even ask if it is okay for her to be "unequally yoked," with a colored fellow! While you are sitting there scratching your head, wondering why your daughter is bringing shame upon your family, you'll think back... You'll think back and realize it was the Bratz Dolls you bought her for Christmas! And you'll realize the tragedy in your life was all explained to you right here, and all you did was laugh out loud! Shame on you! Shame on Bratz Dolls for the lives and families they will destroy as they are placed under Christmas trees for innocent little girls across America!
BANNED: ANTI-CREATIONIST TALKING BIGFOOT BEAST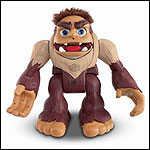 A talking monkey? What will the Atheist Toy Makers at Fisher Price think of next? Bigfoot is a deceptive ploy by Fisher-Price to make the Theory of Evolution appealing to little children. Christian Pastors believe the release of this toy will coincide with an anthropological find and press release regarding the so-called, "Missing Link," sometime next year. Don't be deceived by what seems like an innocent toy. Every single hair on this monkey's head, every movement, every accessory and every lewd noise coming out of its demonic mouth were designed with a Satanic precision we haven't seen the likes of since the Cabbage Patch Kids! Lucifer's Toy Chest test specialists note that the Bigfoot toy speaks over 30 phrases designed to indoctrinate your child with the liberal agenda. Plush monkey toys have been extremely popular for the last couple of years since Obama has taken control of America. Bigfoot is the latest example of how far liberals will go to desensitize conservative children to their twisted ideology of "tolerance," and to indoctrinate them with their anti-Creationist, pro-Evolution education agenda.
BANNED: THE LOOPZ FISTING TRAINER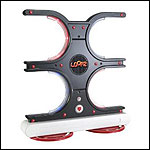 This year, the sex perverts at Mattel have teamed with the Adult Film Industry to design a new game to strengthen your child's arm and wrist muscles so that he or she can grow up and become what the Adult film industry calls, "a Fister." Christian family Psychologists warn us that unless America's Pastors get behind their pulpits and start to talk openly about "Fisting," with their congregations, the practice will ultimately replace the innocent and normal missionary position enjoyed by Christian married couples for the last 10,011 years. Parents should keep the "Loopz Game" out of their Christian homes and take steps to pray for a bold spirit to allow them to talk frankly and openly about the dangers of "Fisting" as it relates to the "Loopz Game," with family members, friends and co-workers.
BANNED: LEAP FROG'S "JUNIOR ATHEIST" BOOK PAL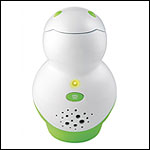 Since its inception, Leap Frog Inc. has been an enemy of Christ, destroying families and leaving piles of children burning in Hell in the wake of its sinister agenda. Most parents who purchase Leap Frog Junior Book Pals have no idea that they are bringing home a remote controlled plastic device designed to control the minds of innocent children by indoctrinating them with scientific facts under the guise of "education." True Christian™ parents have been aware of this for some time, and are prepared to slap this little robot in the mouth, if it so much as utters a word! This year, the Leap Frog Company goes as far as to paint the Junior Book Pal green, to appeal to liberal parents who believe the lie of Global Warming and want to put Christians who don't recycle for Biblical and faith-based reasons, in jail. Well, no matter what color they decide to paint their demonic little Junior Book Pal, it's original color is red, red like Satan's rump! And what's more, the stupid thing doesn't read the Bible! It just reads secular filth! For that reason alone, it should have no place in a Christian home!
BANNED: FISHER-PRICE OBAMACARE MEDICAL KIT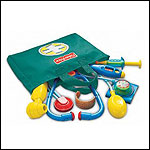 Although this gift might seem educational, it should be avoided at all costs! The kit is designed to introduce children into the medical field and make it an enjoyable and selfless experience without introducing them to the amazing financial benefits related to the medical profession! Your child will be filled with the so-called "wonders and joys of helping others," without any compensation. Our researchers note that the Fisher-Price Medical Kit does not include any information about Faith Based Medicine (Prayer) but instead offers children medical tools and scientific charts and accessories. We believe the release of the Fisher-Price Medical Kit was timed to coincide with Obama's new Health Care Plan. It is perfectly clear that the entire toy industry is in bed with Democrats. The Fisher-Price Medical Kit does not contain any fun/fake money or vouchers or anything that will help your child understand what it means to be a doctor. The liberals have no shame. They continue to deceive America about healthcare and now they are even targeting our children with this medical kit toy, indoctrinating them at an early age into learning how to help people for free!
BANNED: BIG-EYED ORIENTAL PETSHOP PET DEMONS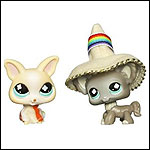 Americans should really start asking themselves - "Why Do Orientals Like Big Eyes?" Well, the answer is quite simple if you use Christian Psychology. Orientals are "of slanted eye." As such, they wish to see more of the world as normal human beings do! Imagine having to live your entire life with your eyes half shut! Well, Orientals do it every day! They even tried to fly planes in World War II, calling themselves - Kamikaze's. Well, we all know what happens when you give them keys to an airplane! They crash it right into a ship! Petshop Pets are the latest plea for help from Oriental people. They long to be part of the mainstream, so they make dolls with giant eyes thinking that Americans take pity upon them. They even studied how Americans view other cultures like the Mexican culture and created a big-eyed Chihuahua Petshop Pet with a sombrero. But do not be deceived! Petshop Pets are nothing more than glorified Pokémon's. True Christians™ called the bluff on Pokémon's years ago, burning them in villages and homes across America, but we soon discovered that Pokémon's breed faster than they burn! Our specialists found that Petshop pets are even harder to burn than Pokémon's because they are made from some kind of hard Oriental plastic. Please keep Petshop Pets out of your Christian homes this holiday season until Christian experts can find a more efficient way of destroying them.
BANNED: SCIENTOLOGY MINDFLEX TOOL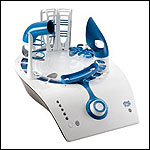 Discerning Christian parents will immediately recognize the "Mindflex" as a crudely designed masturbation device. Simply put, it is cheap imitation of Scientology's, E-Meter - "E" meaning, "Eeeee!" or "OUCH!" as our team of specialists can attest to after squatting down on both devices for seven days. What is more disturbing about the "Mindflex" though, is that a human head can be inserted into it and be configured for something called, "advanced mental acuity," which reeks of Scientology! Since our testers had spent a good part of the week squatting their naked hineys down on the toy, nobody wanted to put their face into it. Also, the toy was in such a state of disarray after Rev. Harry Hardwick brought it back from his house at the end of the week, it was simply pitched into Lucifer's Toy Chest where it continues to emit an irregular beeping noise to this day.
BANNED: I PAD (EXCEPT FOR CHURCH PASTORS)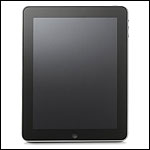 When Steve Jobs gave Pastor Deacon Fred an I Pad, he did so because he knew how influential Pastor is. Deacon Fred has been using his I Pad for nearly a year now. He calls it, "Hell's Window Pane" and one of the most deceptive tools ever created. Apple products have been banned from Christian homes since the company was created. The reasoning is that Apple uses a name and logo which glorifies the lie of Lucifer in the Garden of Eden. Now, with the I Pad, they are showing their true intent. They want one in every home because they want everyone to take a bite of the Apple - like that harlot Eve did! Because of the ban on Apple products, Lucifer's Toy Chest test specialists have not been able to test or study an I Pad. Pastor Deacon Fred informs us that as Chief Pastor, he has a greater spiritual strength and a closer walk with the Lord than anyone in the church or any Christian in America for that matter! Deacon Fred's God ordained strength and power allows him to use the I Pad daily without falling into sin. He announced last week that he alone will continue to use the I Pad and nobody else will ever be allowed to unless he says so.
---
A thorough search of each church member's home will be conducted after Christmas and if Baptist Police Officers find any of these items in your possession, your church membership will be revoked and your entire family will be asked to vacate your house within 10-days.
Read what Lucifer had packed in his Toy Chest in previous years*:
*All other years are sealed pending a full legal investigation between the Landover Baptist Church and several prominent Toymakers.
LUCIFER'S TOY CHEST is an annual Christian Service Ministry, funded by the tithing, Bible believing members of the Landover Baptist Church.