NATIONAL CHRISTIAN ACTION ALERT!
Is Soccer a Sin?
You BET IT IS!!
READ THE FACTS ABOUT SOCCER!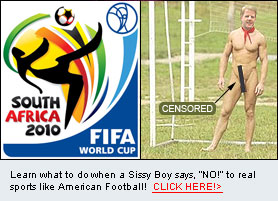 Recently, Baptist missionaries have brought it to the attention of American Baptists that the uncivilized country of Africa has invited soccer teams from every other uncivilized country in the world to come visit them in the southernmost tip of their filthy continent to compete in a so-called "World Cup Competition."
Baptist researchers have learned that the Africans even had the audacity to invite Americans (civilized people) to their competition, and make them compete with England (formerly civilized people). This arrangement was made in order to make the so-called "sport" of soccer appear "credible" to civilized people. No doubt they will fix the game so that both teams "tie" their first match, making everyone just as happy as a hell-bound homo.
As researchers at the Landover Baptist Institute for the Enforcement of Biblical Morality learned more about the World Cup Competition, they were given permission to turn on a secular television station other than Fox News for research purposes. After the initial shock of seeing more hairy naked legs than any of them would have seen in a lifetime, it became obvious that the sport of Soccer was rapidly growing in popularity among civilized Americans. As such, it was apparent that the Landover Baptist Church must once again come to the rescue of American decency by using valuable web-server space to host a page where we do nothing but repeat simple facts that should be obvious to every God fearing American.
Shocking Facts About Soccer:
Soccer promotes Socialist and Communist values. Every little sissy boy on each team is treated equally and functions a part of a "group" (or ideological socio-economic system). They all do the same monotonous thing - kick the ball and run. There is no room on a soccer team for individuality.
Soccer players wear short pants and expose nakedness up to 6 hairy inches above their thighs. This can cause other players or those watching the sport who are weak in the flesh to lust and sin in their hearts.
95% Of the people who watch Soccer are European, also known as "Alcoholics." The only way a human being can sit through an entire match of this boring sport is to be drunk! And that is just plain SAD! Satan just loves it!
Testicles often flop out of soccer players shorts while they are running. Women and children watching the game are exposed to this! In most soccer playing nations it might be normal for people in the jungle to run around naked, but this is happening on American television and it must be stopped!
FIFA renamed Soccer, "Football" after seeing how popular American Football is. They in fact illegally "stole" the name, "Football" from Americans without even asking permission from the NFL.
At the slightest contact, soccer players fall down and roll around on the ground, wincing like yellow-bellied cowards hoping someone will come and touch their naked legs so they can get a cheap thrill.
It is an outward (physical) manifestation of ignorance and stupidity to only use one's feet while playing a sport.
Soccer games are often finished with a "tied game." This is a complete waste of precious time and it shows that there is no merit to the game at all. Even a Mexican or a retarded person knows that a game always ends with a winner or a loser!
Soccer is a sport that is completely obsessed with human feet. Although the feet are covered by shoes, players often slap at each others feet in a fetished frenzy. Soccer actually evolved from the English game "Let's Play Footsie!" which is still played by Nancy schoolboys all over England. Baptist research indicates that "Playing Footsie" often leads powder-puff little gay daisy boys into choosing to participate in an even more dangerous game later in life. That game is called, "Sodomy!"
Many soccer players grow their hair long, to appear like women - which is a sin.
There is no room on a soccer team for anyone to feel like they are left behind, or not participating like a Godly outfielder in baseball. Being "Left Behind" is paramount to promoting American Christian values (see the entire book of Revelations). If there is no one left behind, the Bible becomes irrelevant.
Soccer coaches are not required to read from the Bible and pray to the Lord Jesus Christ before each game.
As we already know, male followers of Mohammed consider it normal for men to wear gowns and ankle length skirts like their women. These men, will take off their dresses and put on short pants to participate in the game of soccer. This very act exposes yet another one of Islam's countless hypocrisies.
Help Us Stop Soccer From Being Played in America
As True Christians™ it is our God ordained duty from Heaven to expose ignorance in all of its forms. It is our prayer that one day soon the United States will ban the sport of "Soccer" from being played on American Christian soil. In addition, it is our heartfelt hope that one day America will cease giving aid to any nation on earth who insists on participating in the game of Soccer.
Please call your local Baptist Church Pastor or Tea Party representative to see how you can get involved!