Praise the Lord and Pass the Ammo!
Pastor Deacon Fred Opens Fire in Lingerie Section of Local Wal-Mart!
Following in the Footsteps of Christ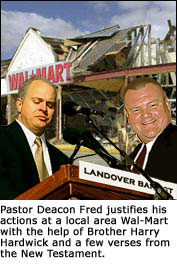 Freehold, Iowa - When Pastor Deacon Fred pulled into the parking lot of the local Wal-Mart last Saturday afternoon, he started damning just about everything in plain view before he even got out of his car. Brother Harry Hardwick and Deacon Fred were making a quick trip to the store to fill the back of Pastor's BMW SUV with handguns for the Landover Junior High for the Saved's Annual "Disable, Then Forgive Our Trespassers" competition to be held next week on the church's private 1,200 acre "Garden of Eden," a lovely park that has proved so alluring to non-church members over the years. "I think what set Pastor off was seeing that Darwin sticker on the red Volkswagen that stole his parking place," said Brother Hardwick. "We parked further out, and Pastor and I walked up to the car to peel the sticker off the bumper. As we were urinating on the hood of the liberal's car, Pastor turned to me and asked me if I saw something funny in the giant red Wal-Mart logo over our heads. When I said 'no,' he just lit into me," said Brother Hardwick. Pastor said, "You can't see a damned penis in there, brother? There are two of them! In the 'L' letters! One of them is long and thick like mine. The other is short and squatty like yours, you unsaved moron!"
Brother Hardwick quickly re-zipped his trousers, cursed the cold air, pretended to ignore Pastor's remarks, then made his way to the store with Deacon Fred. Before they got inside, Brother Hardwick reported that Pastor told him that every single person that ever bought a red colored car, no matter what make or model, was a Satan-satisfying, demon-possessed idiot who was headed straight to hell. When they entered the store, instead of going to the gun section, Pastor made a beeline for the children's toy department.
"By the time I caught up with him," said Brother Hardwick, "he had destroyed two complete rows of children's toys. I just saw him at the end of the aisle, stomping on some Veggie Tales vibrating cucumbers and yelling out something about Satan and naked little children when I caught up with him."
The store manager, Horace Wilkins (who is a Tin-Level member of the Landover Baptist Church) reported that Pastor was screaming at the top of his lungs as he tore toys off the walls and ripped the heads off stuffed animals. "He was screaming about vaginas, penises, the Devil, yelling out OH-NO! OBAMA! and some things I couldn't even make out and others that I would never repeat," said Mr. Wilkins. "It was a sight to behold! The first thing that came to my mind was that Pastor Deacon Fred was so full of the Holy Ghost that the Spirit of God has taken complete possession of his body and sent him into a sin finding frenzy. Well, actually, the first thing that went through my head was that all that crap was insured."
Stepping over broken toys, Brother Hardwick eventually guided Pastor to the gun section. "All Hell broke loose about three minutes later," said Brother Hardwick. "Brother Taylor, the gun clerk, gave Pastor several clips from the gun counter and loaded up a 357 snub-nosed Pistol. I turned my head for a second and Pastor was gone. It wasn't until I heard gunshots in the lingerie section that I yelled out, 'Holy Yenta, Mother of Moses!'"
By the time Brother Hardwick made his way to the lingerie department, Pastor Deacon Fred had already shot up nearly $8,000 worth of merchandise. Pastor was about to set fire to the feminine hygiene aisle when Brother Hardwick finally caught up with him. "I grabbed him as tightly as I could and told him, 'restrain yourself in the Lord, Pastor! Their time will come.' I said, 'We've got to get you back to church!'"
"I took Pastor's keys and helped him with his safety belt when we got back into the car," said Brother Hardwick, "but as we were driving down the highway, he got his window rolled down and was yelling at other drivers and violently pitching Chick tracks from the glove compartment out onto the highway. He winged a woman waiting for the light on Corn Avenue with an "Are Mary Worshipers Sucking on Your Child's Pee-Pee?" tract. He may have taken her eye out, but I was driving too fast to tell for sure."
Brother Hardwick was so distraught that he took Pastor to the Landover Baptist Hospital where they did a blood test and discovered that his blood alcohol content was nearly .34. Pastor was ordered to stay at the hospital overnight and was released the following morning to preach. He had no recollection of the incident, but church officials are investigating foul play.
"Mary-worshipping Catholics are always trying to get at us," said Brother Hardwick. "My guess is that one of those Catholic waitresses at the Des Moines Denny's got something into Pastor's orange juice that Saturday morning. When we get to the bottom of it, there will be hell to pay!"
Wal-Mart claimed that $93,000 of merchandise, fluorescent light fixtures, floor tiles, display racks and employee uniforms had been destroyed by Pastor during his eight-minute outburst. The entire tithe from the Sunday morning service had been set aside to pay for these repairs. Once $378,450 in tithes was collected, however, cooler heads prevailed. Mrs. Betty Bowers remarked, "I think someone is exaggerating rather wildly. Surely, if one decimated their entire stock, from car tarps to frocks, if indeed there is a difference, no one could do $9,000 of damage at a Wal-Mart, much less $93,000!" Mrs. Bowers then scooped out approximately $900 in cash and declared: "As God is my witness, this is rather a lot of money for those people. Let's consider this unsavory matter now closed.