Why is God Striking the Deep South?
Sermon by Brother Harry Hardwick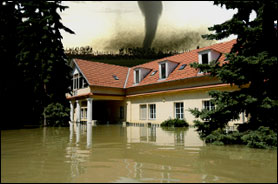 Every time we think we have the Lord figured out, He throws us a curve ball. That is why it is essential that we follow all of His edicts, no matter how incomprehensible or downright unjust they may appear. There is seemingly no rhyme or reason to His decisions to kill. God adored some of the most heinous people in history and slaughtered those guilty of the most mundane of miscues. By way of example only, God spared Noah and his family from the Great Flood. And what was one of the first things Noah did thereafter? He got rip-roaring drunk, stripped naked and passed out so that one of his sons saw his (apparently sizable) tallywhacker. Yet, it was the son who was punished, being turned black and becoming the world's first slave (Genesis 9:20-25). Lot, the only man the Lord allowed to escape the fire and brimstone of Sodom and Gomorrah, offered his daughters to be gang-raped by a mob to avoid letting the mob members have sex with other men (Genesis 19:4-8). And then, as if to one-up Noah, Lot not only got drunk and showed his tallywhacker to his daughters, he inserted it in and impregnated them both. Yet, the New Testament describes Lot as a "righteous man" (2 Peter 2:7). By contrast, the Lord turned Lot's wife into a pillar of salt just for being the world's first rubbernecker (Genesis 19:16).
In recent years, there actually appeared to be a method to the Almighty's mayhem. In 2004, after SARS had failed to do the trick, God wiped out tens of thousands of heathens in Asia, with an earthquake and tsunami, then repeated the feat seven years later in Japan, when the people continued to reject The Christ. He did the same to Haiti for making a pact with the devil, as Godly Pat Robertson told us. The earthquake in Chile, like the swine flu in Mexico, was designed to punish those idol-worshippers who annoy the Lord as much as anyone, even when they're not boinking boys. And New Orleans with Katrina? Take your pick of the debauchery he chose to punish there. You might think it was the rampant homosexuality scheduled to occur a week later (though surely the omnipotent Lord wouldn't have gotten his weeks mixed up). Or perhaps you agree with several fundamentalist groups that God was punishing the city for endorsing abortion, given that satellite images of the storm looked just like a fetus on radar. Of course, if the latter were true, one would have to wonder why God hasn't offed 99 percent of the country by now. But I digress.
We all know that God is flooding the Mississippi river to punish states that allow river boat gambling. That's not what I'm here to talk about today because I'd just be stating the obvious. What I'm here to talk about is the twirling fingers of the Lord! Tornadoes are God's preferred method of inflicting death and suffering on sinners when He's looking for a quick result. Jeremiah, chapter 30, verse 23 tells us: "Behold, the whirlwind of the Lord goeth forth with fury, a continuing whirlwind: it shall fall with pain upon the head of the wicked." And chapter 40, verse 24 of Isaiah notes: "Yea, they shall not be planted; yea, they shall not be sown: yea, their stock shall not take root in the earth: and he shall also blow upon them, and they shall wither, and the whirlwind shall take them away as stubble."
This makes the tornadoes that recently ravaged the Deep South, inexplicable. The South contains the most Christians per square mile than anywhere else on earth, present company excluded. And yet, Alabama was the hardest hit state. Alabama has managed to maintain its evangelical roots and avoid the temptation to be progressive, enlightened or all-embracing, or even to enter the 21st century, for ages. The state still lives in the 1950s when times were simpler and people were separate. A statue of the Confederate president continues to grace the state capitol. Different people live in their own sections of town, eat at their own restaurants and have their own barbers, doctors and bus seats. The former chief justice of the state supreme court, Roy Moore, loves the Lord so much that he violated God's commandment against idolatry to place a granite mausoleum of the Ten Commandments in the courthouse building – a graven image so big it puts the monolithic sound bytes in Exxon commercials to shame.
Perhaps Judge Moore's greatest achievement was his concurring opinion in a lesbian custody case in which Alabama's high court predictably granted all parental rights to the biological mother and told the lover that she is worthless dung. But Judge Moore went even further, suggesting homos should be executed.
"The State carries the power of the sword, that is, the power to prohibit conduct with physical penalties, such as confinement and even execution. It must use that power to prevent the subversion of children toward this lifestyle, to not encourage a criminal lifestyle."1
And how did the state respond to this Godly man? By one of its sitting federal judges removing the Ten Commandments from the supreme court building without replacing the monument with anything comparable, like a tower imprinted with the Book of Leviticus. And more significantly, by the Alabama citizenry refusing even to let Judge Moore be the GOP (God's Own Party) nominee for governor. The apparently "reforming" Republicans picked someone else. The vengeful Lord is obviously not impressed. I hope Alabama (along with Mississippi, Tennessee, Georgia, Virginia and the other Godly Southern states) have learned their lesson and will stop so-called "progressing" like the rest of this God-forsaken country is doing.
And, of course, once again, the Almighty expressed his disdain for the very poor – those people so unintelligent, so talentless and so lacking in ambition that they feel satisfied living in trailer parks. There won't be many used single-wides for sale in the Cotton State (which has very few cotton stalks left).
Every last one of you had better remember that we are all disgusting, despicable sinners who are born and even conceived into sin, and it is only by the grace of God that we have been allowed to live this long. God's rather fickle grace for any of us could end at any time. There is no predictability to His killing sprees. The best among us are even more likely to suffer His wrath than the worst. It's a shame the Deep South failed to heed the words of the great Jonathan Edwards.