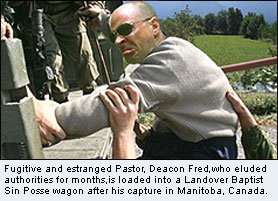 Manitoba, Canada - International fugitive and estranged former Pastor of the Landover Baptist Church, Deacon Fred Smith, was captured and taken into custody in the remote mountains of Manitoba Canada on Saturday, August 7th at 5:27 P.M.
Deacon Fred, who was incarcerated in early May of this year for inducing a child to commit bodily harm after listening to one of his sermons, escaped from the Fort Madison County Iowa Jail on July 4th. With assistance from an unknown number of followers, Deacon Fred has since been a fugitive from justice, eluding authorities and concerned church officials by hiding in the remote wilderness of Manitoba, Canada.
At 11 PM, Friday, August 6th, a fully deputized Sin Posse of 3,000 Landover Baptist churchmen descended on Deacon Fred's location after a tip from Rev. Brother Harry Hardwick who had been monitoring an elusive GPS signal from the basement of his Leviticus Acres estate in Freehold, Iowa.
What Sin Posse deputies thought would be a speedy military engagement, turned into over 24-hours of heavy artillery combat.
The battle had all but ended late Saturday evening as most of Deacon Fred's followers had abandoned all hope and fled further into the mountains. Sin Posse Deputies rolled back a large stone covering the entrance of a cave where Deacon Fred had been hiding along with his peculiar dwarf companion, Tiny Harolson. The estranged Pastor surrendered without incident - other than slapping a young Sin Posse deputy across the face and exclaiming, "Shame on you! I know your daddy!
Initial reports indicate there were 134 church members lost along with an M1A2 Abrams tank donated by an anonymous Platinum Tither. The wives of churchmen were alerted to expect more casualties in addition to loss of expensive equipment and Tupperware care packages. Canadian Mounties are expected to arrive on horseback within the next 5-days - so Sin Posse deputies have been ordered by Rev. Harry Hardwick to leave the area as soon as possible but to "do their best" to stomp out the smoldering debris from the nearly 400 acres of forest they accidentally set on fire during the battle.
Landover Baptist Church officials are now working carefully to find any True Christian™ authorities hiding in the Canadian government who will accept a generous donation to enable safe border passage into America.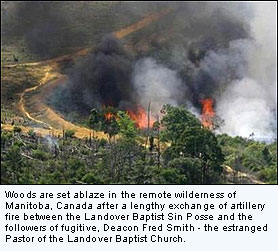 At the time of this press release, a caravan of Sin Posse churchmen are prayerfully beginning their long journey back to Freehold, Iowa with Deacon Fred safely confined in a caged wagon along with his dwarf companion, Tiny Harolson, who refused to leave his side or hop down off his shoulders.
Upon Deacon Fred's return, he will be questioned by the Landover Baptist Board of Deacons and sent to the Creation Science Research Center to undergo Preliminary Salvation Re-conditioning before being placed back behind bars.
Rev. Pastor Harry Hardwick, the chief Pastor of Landover Baptist Church and a dear friend of Deacon Fred dedicated the Sunday morning prayer to the brave members of the Landover Baptist Sin Posse who gave their lives in the Battle of Manitoba to capture Deacon Fred unharmed.
Hardwick ensured church members that Deacon Fred would be treated with the utmost care. "God willing, one day my old friend will understand that we all love him dearly and everything we do on his behalf is an outward manifestation of a genuine heartfelt concern for his Religious sanity."
Church members continue to pray for the safe passage of their brave Sin Posse brothers in Christ as they journey home across the Canadian wilderness with Deacon Fred in tow.