CHRISTIAN GALA HELD TO CELEBRATE LANDOVER BAPTIST'S NEW PASTOR AND CEO, REV. PASTOR HARRY HARDWICK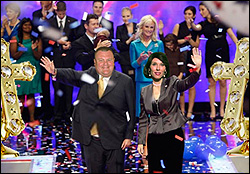 Freehold, Iowa (Landover Baptist Towers Hotel & Resort) - Rev. Pastor Harry Hardwick, his lovely wife, Heather, Mrs. Betty Bowers (America's Best Christian™), and a newly adopted South African child, were the guests of honor this Friday evening at a $4,500/table Gala held in the Grand Goshen Ballroom at Landover Baptist Towers Hotel and Resort. "His Highness, Rev. Pastor Harry Hardwick, the Lord's Official Posthumous Spokesman" (formerly known as "Brother Harry" and to the world as, "The Bible Answer Man."), delivered a rousing sermon the previous Sunday entitled, "The Church Is Bigger than Any One Man, Except Perhaps Jesus." After Rev. Pastor Hardwick's Sermon, church members gathered in The Great Fellowship Ball Room to view "a spectacle unto the Lord's delight" as 20 deacons, in perfect unison, undraped enormous murals of Pastor Hardwick and his lovely wife Heather. As the giant imported Italian purple silk cloths concealing the incredible paintings were dropped, thousands of pieces of 18-karat gold leaf concealed in the ceiling by burlap sacks rained down on the room to thunderous applause, as invited journalists from Fox News Inc., stuffed their pockets.
After the cloths were dropped, frenzied Church members demanded a continuation of Christian celebration! Spontaneous mandatory praise parties erupted across the Landover Baptist Church campus and the Board of Deacons announced a "Grand Gala" to honor Rev. Pastor Harry Hardwick with an unparalleled spectacle of lavish Christian Fellowship.
The Grand Gala honoring Rev. Pastor Harry Hardwick as the new Chief Pastor and CEO of the Landover Baptist Church was an absolute delight to all who attended. There are over 5,287 photos of the event available online through the Christian photo sharing site, Christ-Flickr™.
During Grand Gala, Pastor Hardwick made a speech under the manse formerly housing Deacon Fred and his confused wife, Macel (confined to The Facility in North Dakota for the last two months). "As Creation Scientists attempt to remove the demons that have sabotaged the sanity of Pastor Deacon Fred's precious wife, Macel, we must keep her in our prayers! The demons of despair will soon will soon be lifted from her fragile womanly mind, and when they are, we expect that she will have some answers for us," he related. "The answers we are looking for – as most of you all are aware, are regarding Pastor Deacon Fred's relationship with his personal secretary, Edna Denkins. Any Denkins family out here tonight? No? I didn't think so! In case you haven't been reading Pastor Deacon Fred's Facebook account, as I do on a daily basis to keep up with church security matters, Miss Edna Denkins has disappeared! A routine criminal background check on Miss Denkins took down the church's computer network for 30 minutes! Edna! If you are reading this now, as are hundreds of thousands of people across this great Nation of ours, I want you to know that I promise you a safe return to Freehold, Iowa. You can have your old job as busgirl at the Hooters on Highway 370 outside of Des Moines, but you MUST return Deacon Fred's internet passwords to my personal assistant and secretary, Lucy Gagglesworth!"
After a toast with Cristal (that Pastor Hardwick explained was the non-alcoholic version of the company's product), Pastor passed out the first new Landover Baptist organizational chart involving the replacement of key officials that raised a few eyebrows. The most noteworthy change involved Mrs. Bowers as the new chief financial officer for Landover Baptist and all of its holdings, including offshore accounts. Mrs. Bowers was mum on the announcement at the party, but had apparently discussed the matter earlier in the week with Elisabeth Hasselbeck, who has taken to stalking the celebrity for months. After rebuking the TV hostess for a wardrobe that looks like the Blue Light line that pushed K-Mart into Chapter 11, Mrs. Bowers explained that church members needn't worry about Mrs. Bowers holding any position of authority over men, in violation of Paul's pesky letter to Timothy. "Rest assured, I have fired all those men beneath me and replaced them with members of my ministry, Bringing Integrity to Christian Homemakers. Those gals can squeeze a $100 grocery list into $60 while simultaneously improving the dinner menu. We're going to make the church budget something Washington can only marvel at."
Mrs. Bowers refused to comment on former Pastor Deacon Fred's demise. "I won't say an unkind word about my brother-in-Christ until all appeals have been exhausted." A teary-eyed Pastor Hardwick defended his longtime colleague and best friend. "Deacon Fred has pushed the envelope for decades. God has always been there to pick him up. Well, the Lord was absent this time, and we must assume there is a reason for that! A-men? All I know is that the boy who started all of this has left the country and will return for trial only if Fred foolishly fails to plea bargain. Mrs. Bowers and I have cooperated with local, state and federal authorities and turned over quite a bit of financial information which we hope will assist Pastor, though we've been told multiple additional charges are still forthcoming. I wish my good friend the best and assure him that Betty and I have left one of his many retirement accounts intact. If and when he is finally released, he will be able to spend his remaining years living out the same humble, Christ-centered lifestyle to which tin level-tithers have become accustomed."