Pastor Busted Out of Jail After Thousands of Facebook Fans Stage July 4th Rampage on Remote Iowa Town!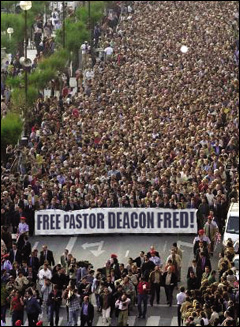 Fort Madison, Iowa - 8 AM, July 4, 2010. The remote Iowa town of Fort Madison (pop. 100) was engulfed in by what witnesses say were thousands of frenzied Facebook fans and friends of Pastor Deacon Fred Smith.
Pastor Deacon Fred is the estranged CEO and Chief Pastor of the most powerful church in America, Landover Baptist Church™. He was arrested in early May for purportedly inducing physical injury in a minor child with one of his sermons. He has remained behind bars in Fort Madison County, Iowa Jail for nearly two months.
Local residents of Fort Madison say they witnessed thousands of people marching down main street, some wielding baseball bats and smashing windows out of local businesses and dragging shopkeepers into the street. They say that some of the crowd were carrying torches while others threw lit fireworks. "It was a scene of total and complete chaos," said one resident. "We hid in our basement for 8 hours!"
A Fort Madison resident who was able to join the crowd undetected by quickly putting on one of the "Free Pastor Deacon Fred" T-Shirts being thrown around says that the mob forced its way into the Fort Madison County Jail, dragged the sheriff and jail guard into the street and hung them on make-shift crosses! "After breaking down the prison doors and releasing Pastor Deacon Fred, and a local drunk who was in the cell next to him, they burned down the jail," he reported.
Witnesses say that once word got out, and the entire crowd knew Pastor Deacon Fred was free, everyone broke out into song. "Thousands of people began singing, Mine eyes have seen the glory of the coming of the Lord!" said one witness. "I just sang the Battle Hymn right along with them cause I didn't want myself getting killed!" he said. "We hoisted the Pastor atop our heads and made our way to City Hall."
It was reported that the crowd began chanting "Preach! Preach! Preach!" as they marched Pastor up the steps of City Hall. Pastor Deacon Fred thanked the crowd, shouting "Glory! Oh Glory!" and asking the crowd to "Shout it! Shout Glory!" to which they obliged in unison.
"The Pastor thanked his Facebook friends and fans, saying they were the only friends he has left in the world, and the only people he could trust," said witnesses. "Pastor then began preaching a sermon, and called upon everyone to record it, saying it was the first sermon he preached in nearly two months, and that people usually pay good money to hear his voice, and God willing - they will again! Thousands of people pulled out their i-Phones and cameras and stood quietly as the Pastor preached for over an hour."
Authorities say that after Pastor's sermon on the steps of City Hall, he was taken aside by several members of the crowd and placed into a black suburban with tinted windows and Ontario license plates. The crowd dispersed shortly afterward but not before leaving most of Fort Madison, Iowa in a heap of burning embers.
Investigators report that shortly after Pastor Deacon Fred was incarcerated in May, he had been given access to a computer for 10-minutes a day in the jail library. Computer log records (which were archived daily) show that Pastor spent most of his time on the social networking site, Facebook where it is believed he rallied support on his behalf by posting messages to nearly 5,000 friends and 10,000 fans about his predicament.
State Police report that in addition to a prison breakout and possible kidnapping, there are countless instances of vandalism, assault, littering, public urination and public nudity. "Immediate evidence suggests that the entire incident was carefully planned and fully orchestrated through the social networking site: Facebook," said one investigator. "This took weeks of coordination and careful planning. It involved thousands of people from all 50-states, Mexico, Canada - and even the Netherlands, England and Germany. The local airport saw over 100 flights coming in from all over the world," he said. "And that airport usually only gets one flight coming in from Des Moines twice a year."
Investigators are currently working with Facebook to lock Pastor Deacon Fred's friends and fans until further notice.
The whereabouts of Pastor Deacon Fred Smith are unknown at the time of this press release. He is a fugitive from justice, and should be considered mentally unstable, please contact your local police department if you have any information.